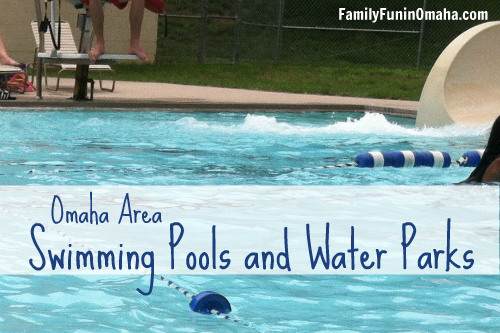 It's Summertime! Enjoy many waterparks and swimming pools in the Omaha Area!
Join our growing community and keep updated on Omaha family-friendly events and activities and Sign up for our Free Email Newsletter!
2021 Omaha Summer Fun Guides
PLEASE NOTE: As things continue to change during this time, it is always a good idea to verify details before visiting.
Pools and Waterparks in the Omaha Area Open in 2021
*** IMPORTANT: Click on links for information on Opening Dates!
♦ Zero Depth Entry
(Check this link for latest information on Opening Dates)
Outdoor pools:
♦

Camelot – 9280 Cady Ave.

♦

Cryer – 11883 Cryer Ave.

♦

Deer Ridge – 585 S. 126th St.

♦

Elkhorn – 3200 N. 208th Plz.

♦

Elmwood – 606 S. Happy Hollow Blvd.

♦

Gallagher – 2936 N. 52nd St.

♦

Hanscom – 3110 Ed Creighton Blvd.

♦

Hitchcock – 5025 S. 45th St.

♦

Karen – 6288 H St.

♦

Lee Valley – 10605 Charles St.

♦

Miller – 6275 N 30th St.

♦

Oak Heights – 10205 U St.

♦

Roanoke – 4747 N. 113th St.

♦

Spring Lake – 4020 Hoctor Blvd.

♦

Zorinsky – 3808 S. 156th St.
Indoor:
Common Ground Pool – 1701 Veterans Dr., Omaha, NE
Mockingbird Hills Pool – 10242 Mockingbird Dr., Omaha, NE
Montclair Community Center – 2304 S. 135th Ave., Omaha, NE
Council Bluffs Pools
28500 W. Park Hwy., Ashland, NE.
The Family Aquatic Center includes a swimming pool with two water slides, a diving area, a zero-entry wave pool, a sun deck, and a concession area.
7003 Q St., Omaha, NE.

Fremont
Gretna Pool
Gretna Public PoolHwy 6/31 & W. Angus Rd., Gretna, NE.
Due to COVID issues, the Gretna City Pool will be open at partial capacity with limited hours and days, dependent on staffing for open swim only and no extra services will be available.
La Vista Pool
La Vista Municipal Pool7529 S. 85th St., La Vista, NE.
For the duration of the 2021 swimming season, the pool will operate at 50 percent capacity, which will allow 119 patrons at a time.
Omaha
Papillion
Plattsmouth
Wahoo
Bellevue Pools
Have fun enjoying all of these Pools and Water Parks!
More Summer Fun:
Midwest Water Parks: