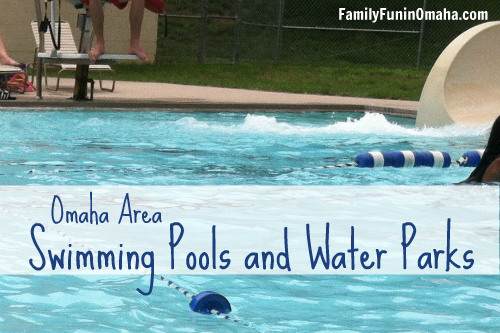 It's Summertime! Enjoy many waterparks and swimming pools in the Omaha Area!
Join our growing community and keep updated on Omaha family-friendly events and activities and Sign up for our Free Email Newsletter!
2018 Omaha Summer Fun Guides
Sponsored by Fun-Plex: Discount Offer!
Special thanks to Fun-Plex for sponsoring this guide!
COMING SOON TO FUN_PLEX: Experience the NEW Rockin' Rapids Waterslide!
DISCOUNT OFFER: Save 25% off day tickets until June 30th with Code JUNEFUN2018. Online Sales only.
As times, dates, and costs may change, it is always a good idea to verify with the business before visiting.
Pools in the Omaha Area
♦ Zero Depth Entry
Opening Day is June 4th for the 2018 Summer!
Indoor:
Common Ground Pool – 1701 Veterans Dr., Omaha, NE
Mockingbird Hills Pool – 10242 Mockingbird Dr., Omaha, NE
Montclair Community Center – 2304 S. 135th Ave., Omaha, NE
Outdoor:
Camelot – 9270 Cady Ave.
Cryer – 11783 Cryer Ave.

♦

Deer Ridge – 585 S. 126th St.
Elkhorn – 3200 N 207th Plz.

♦

Elmwood – 606 S. Happy Hollow Blvd.

♦

Gallagher – 2936 N. 52nd St.
Hanscom – 3110 Ed Creighton Blvd.

♦

Hitchcock – 5025 S. 45th St.
Karen – 6288 H St.
Lee Valley – 10605 Charles St.

♦

Miller – 6275 N 30th St.

♦

Oak Heights – 10205 U St.

♦

Roanoke – 4747 N. 113th St.
Spring Lake – 4020 Hoctor Blvd.

♦

Zorinsky – 3808 S. 156th St.
Bellevue Pools
Gretna Pool
Gretna Public Pool – Hwy 6/31 & W. Angus Rd., Gretna, NE

Pool Opens: Saturday, May 26, 2018
Pool Closes: Sunday, August 12, 2018
La Vista Pool
La Vista Municipal Pool – 7529 S. 85th St., La Vista, NE

Open on Saturday, May 26, 2018 and close on Monday, September 3, 2018 (Labor Day).
Omaha
Waterparks in the Omaha Area
♦

 Family Aquatic Center at Mahoney State Park – 28500 W. Park Hwy., Ashland, NE

The Family Aquatic Center includes a swimming pool with two water slides, diving area, zero-entry wave pool, sun deck and concession area.
The center is open Memorial Day through Labor Day with reduced hours starting in mid-August.
Council Bluffs Pools
Fremont
♦

 Splash Station – 3809 E. Fremont Dr., Fremont, NE

Splash Station will open on Monday, May 28, 2018.
Last day of operation will be Saturday, August 11, 2018.
Papillion
Plattsmouth
Wahoo
Have fun enjoying all of these Pools and Water Parks!
More Summer Fun:
Midwest Water Parks: