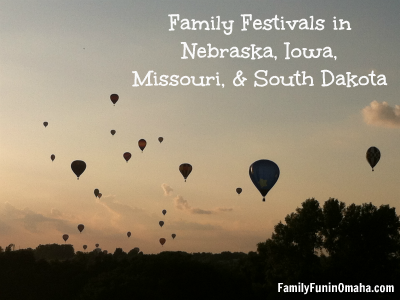 Special thanks to Lisa of The Walking Tourists who helped compile these festivals, along with Visit Nebraska, Travel Iowa, Visit MO, and Travel SD.
Enjoy many family-friendly festivals in Nebraska and surrounding states this summer with a variety of celebrations and events! [It is always a good idea to verify information before visiting, as event details may change.]
NEBRASKA
Comprehensive list of all 179 festivals going on in Nebraska this summer.
June 8-15: Homestead Days in Beatrice (great for young kids and families)
June 18-28: NEBRASKAland Days in North Platte (great event for families with kids of all ages) This is their 50th Anniversary so they will be going all out this year!
July 4: Seward's 4th of July Celebration (it is Nebraska's 4th of July city for a reason)
July 11-13: The 33rd Annual Wayne Chicken Show (this long running favorite is great fun for all ages)
July 26: Kites and Castles at Lake Mac near Ogallala (this is the festivals 25th year and it's a great opportunity for a family camping trip to the lake
August 1-3: Wilber Czech Festival (always a family favorite with some great food)
August 8-10: Kool-Aid Days in Hastings (geared toward families with young kids)
August 22-Sept. 1: Nebraska State Fair in Grand Island (tons of fun things to see and do)
Thanks to Visit Nebraska for the descriptions!
IOWA
May 23-24: John Wayne Birthday Celebration, Winterset
May 24-25: Tivoli Fest, Elk Horn
June 14: Kinderfest, Manning
June 16-21: Children's Musical Theatre Workshop, Denison
June 18-21: Ice Cream Days, LeMars
June 27-29: Des Moines Arts Festival, Des Moines
July 16-21: Pottawattamie County Fair, Avoca
July 19: Geocache and Earthcache Bash, Hancock
July 25 – August 2: National Balloon Classic, Indianola
Aug 7-17: Iowa State Fair, Des Moines
Aug 9: Night Sky Event, Honey Creek
Aug. 30-Sept.1: Hoo Doo Days, Neola
Sept 4-7: Pufferbilly Days, Boone
Sept 6: Monarch Tagging, Honey Creek
Sept 19-20: Tri-City BBQ Fest, Denison
MISSOURI
May 1-3: Truman Heritage Festival, Grandview
May 2-3: Apple Blossom Festival & BBQ Contest, St. Joseph
August 15-17: Trails West, St. Joseph
August 28 – September 1: Santa Cali Gon Days Festival, Independence
August 29-31: IrishFest, Kansas City
September 20: Toonfest, Marceline
Corn Mazes and Pumpkin Patches in Missouri
SOUTH DAKOTA
June 7-8: Siouxland Renaissance Festival – Sioux Falls
June 19-21: Czech Days – Tabor
July 11-13, 18-20, 25-27: Laura Ingalls Wilder Pageants – De Smet
July 12-13: Railroad Days at Historic Prairie Village – Madison
Jul 12-13: Brookings Summer Arts Festival 
August 29-31: LifeLight – Sioux Falls