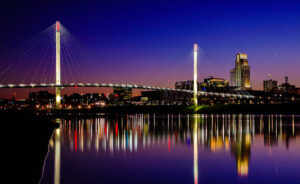 Bob Kerrey Pedestrian Bridge is the amazing bridge that connects two states, Iowa and Nebraska; and measures 3,000 feet long. It starts in Iowa at Tom Hanafan River's Edge Park. This pedestrian bridge connects Council Bluffs, IA to Omaha's Riverfront. This is also the first-ever pedestrian bridge that connects two states. The unique design of this infrastructure makes it architecturally interesting and attracts tourists. The s-curved style of this bridge makes you want to wander especially at night time when the weather is nice for taking a walk and just appreciating the Omaha Skyline view that this bridge offers. You must also see the colorful lights that are switched on at night. Since there are a lot of locals and tourists exploring and walking around the bridge, the government made sure that it is still a safe place to visit. They installed police call buttons for emergency purposes.
Visitors and bikers can travel through Port of Omaha's Miller Landing to One Renaissance Center in Council Bluffs. This Pedestrian Bridge has received multiple awards, including a Grand Award from the American Council of Engineering Companies.
There are also nearby restaurants and lots of fun things to do after you visit the bridge. Nebraska is the best place for sumptuous steak and craft beers, so after your long and tiring walk at the bridge, you can relax and enjoy your dinner with your friends and family.
This bridge is open 24 hours a day.