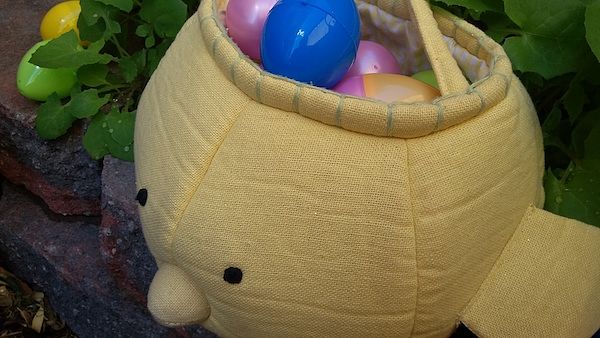 Create memories with many activities for Easter fun at home this year!
Find the Omaha Easter Egg Hunt Guide, including many Drive-Through and To-Go Experiences!
Kick-off Easter Morning with a House-wide Egg Hunt!
While the kids are sleeping, hide Easter eggs around the house so that when they wake up on Easter morning, the house is filled with colorful eggs to seek and find! Leave their Easter baskets outside their bedroom doors so they can get started right away.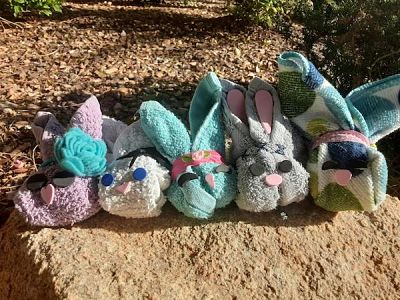 Make Washcloth Bunnies
With just a washcloth and rubber band, children can create a cute bunny. Visit Crafts By Amanda for an easy step-by-step pictorial on how to fold your bunny. Then, kids can use their imaginations to decorate their bunnies with stuff you have around the house, like googly eyes, hair ties, craft foam, felt scraps, ribbon, pom-poms, buttons, etc.
Create a Stained Glass Chalk Drawing
Grab some chalk and tape and create a beautiful Stained Glass Chalk Drawing on your driveway or sidewalk. Add a Cross in the middle for a beautiful Resurrection Stained Glass Chalk Drawing.
Attend Easter Service Virtually
Many local churches are live-streaming their Easter Services so that you can join in the safety of your home.
Dress up in Easter Best and Take Family Photos
Have everyone dress up in their Easter dresses or nicer clothes and hire a photographer to take pictures as part of the Front Steps Project or invite your neighbor to take some family photos in your front yard and text them to you.
Build a Bunny House
With just toothpicks and mini marshmallows (stale marshmallows work best), kids can build a house for their bunny or chick. Not only is this STEM project fun, but it challenges young minds as they explore the concept of support and discover how many marshmallows and toothpicks it takes to create a structure that will stand up! Find more toothpick and marshmallow challenges here.
Make "Bunnies/Chicks in the Dirt" Ice Cream Parfaits
No celebration is complete without a treat! For Easter, make cute Easter-themed dirt sundaes with the kids to celebrate! Or better yet, the kids can make these fun desserts themselves! Just top your favorite ice cream, yogurt or pudding with crushed Oreos to create the "dirt" your marshmallow Peep sits on. Decorate with sprinkles, jellybeans, or anything else you like!
My daughter made this one with Chocolate ice cream. We had mint Oreos in our pantry, so she used those. Separating the cream from the cookie, she crushed the cookies and I melted the cream a little in the microwave (10-20 sec.). Then, she layered everything like a parfait, topping the crushed Oreos with dribbles of cream to look like grass, jellybeans, and a Cotton Candy Peep Chick.
Play Easter Games
Baggo: With duct tape, make two circles on the floor. Then, kids can toss stuffed bunnies, trying to get them in the circles.
The Egg Game: Write an action on slips of paper and put them in plastic Easter eggs. Kids each pick 6 eggs from the basket. Set a timer for 2 minutes and see who can complete the most actions in that time. OR, say "Go!" and see who can complete all their actions the fastest.
Family Movie Time: Watch an Easter Movie
Break out the popcorn and Easter candy, snuggle up under a fluffy blanket, and watch the family movie HOP (PG) – it's on Netflix now! Check out Common Sense Media's review of HOP.
Be sure to also check out these fun activities: