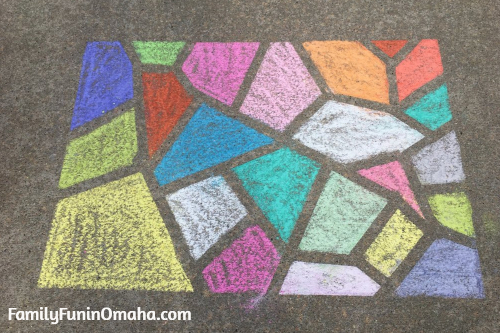 Have you seen the beautiful Stained Glass Chalk Drawings showing up on driveways in your neighborhood?
They are so beautiful! We loved seeing so many variations during our stroll for Chalk Your Walk Wednesday!
We have also seen variations of this on fences, and on front doors and windows with washable paint!
Supplies Needed: Painters tape/masking tape, Sidewalk chalk
(Please note: As an Amazon Associate I earn from qualifying purchases. See full disclosure policy here.)
Step 1: Create a Border with Painters Tape
Create your masterpiece on your driveway, on a fence, or on a sidewalk.
Tip: Keep it simple. It might be tempting to see how big of a creation you can make, but you (or your kids) might get tired and want to stop before the coloring is complete.
Step 2: Create your Outlines
It looks best if you have a bunch of smaller lines, all joining together. Create varying lengths, angles, and shapes to complete your design.
You can also create a shape in the center, and then have the stained glass effect around it.
Step 3: Color in your Design
Try to use different colors in each section, even contrasting colors so each section stands out more.
Step 4: Add the Finishing Touches
Make sure each section is completely covered all the way to (or over) the tape.
Step 5: Remove the Tape and Enjoy your Masterpiece!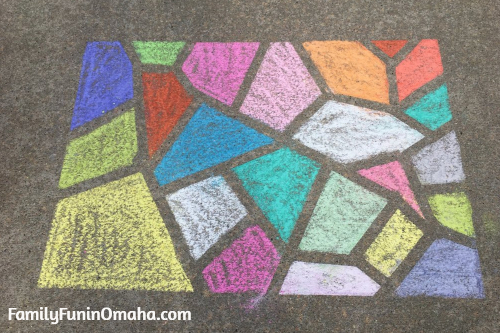 Carefully remove the tape and enjoy your masterpiece! It will wash off with each rain, creating a blank canvas for you to imagine a new design!
MORE HELPFUL RESOURCES