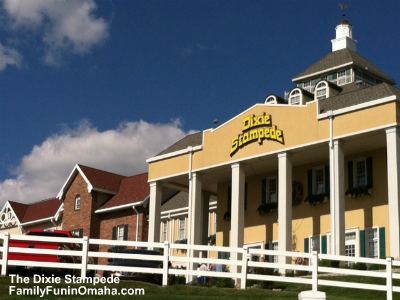 Note: Many thanks to The Dixie Stampede for inviting us to experience their show, as part of our ongoing goal to help find and share family-friendly fun in cities where we travel. 
On our recent trip to Branson as a family, we knew we wanted to go to one show, a family-friendly event that appealed to even my youngest child. We decided to go to Dixie Stampede, one of the most popular shows in Branson, and thoroughly enjoyed the pre-show, four-course feast, main arena production, and exciting audience participation!

Carriage Room Pre-Show
Immediately upon arriving, we were greeted by a friendly host and passed by the beautiful horses that were going to be a part of the show. About 50 minutes before the main show, we were treated to an amazing pre-show in the Carriage Room.
My kids were mesmerized by the magician's amazing act, full of fun tricks, silly jokes, and cool feats. At one point, he was spinning 13 plates on 13 poles, the same trick that his dad performed on the Ed Sullivan show years prior! The highlights included juggling fire and balancing everything on his chin, even a 8 foot ladder!
The Feast
Immediately after we were seated, we were served pop or tea, warm biscuits, and creamy vegetable soup. As soon as one course was finished, the next course came, all served without interruption or distraction from the show. The main dish was plentiful: whole rotisserie chicken, pork loin, corn on the cob, and baked potato. A delicious apple pastry for dessert topped it all off. A doggie bag was provided to take home enough food for another meal!
The best/most interesting part was that you are not given utensils to eat! Good old finger licking fun. (A warm wash cloth and plenty of wipes were provided.) Definitely added to entire experience!
The Dixie Stampede
Throughout the meal, quick-paced, exciting acts entertained the arena audience. We all loved watching the performers as they rode on horses performing various tricks, including one man riding on two horses, and another jumping through a ring of fire! Various other thrilling acts included barrel racing, wagon racing, and stunt tricks. Between the performance, Clete, the work hand, would provide humor that the whole arena enjoyed.
Throughout the show, members of the audience were invited to participate in various games. Our daughter was selected to join in the chicken race, with one other little girl who was celebrating her birthday. It was so fun to watch her run out in front of the entire audience and participate in the fun. She had the biggest smile on her face!
The entire experience of going to The Dixie Stampede was so much fun, and was a highlight on our trip to Branson!