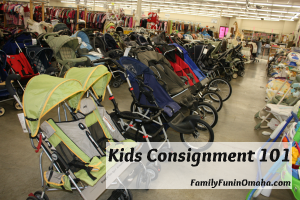 Welcome to our series on Kids Consignment 101.  We are very happy to have Mary, a volunteer with Reruns R Fun for 16 years, share all about consignment sales including the benefits, process, tips for success, and a basic overview from both the selling and buying point of view.  Our hope is to provide the best tools to be successful whether you are a beginner or seasoned professional!
Children's Consignment Sales: What are they?
 Why should you consign your items?
Have you ever been to a bi-annual children's consignment sale? There are several right here in the Omaha area and it's an event you will definitely want to seek out!! If you have nice things your children no longer use and you're just hanging on to it all because you don't know what to do with it, selling at a consignment sale might be the answer for you!
HOW THEY WORK:
Consignment coordinators round up families willing to part with their children's outgrown, gently loved items, weed out the junk and organize all the best stuff…all under one roof. They then market their sales event extensively and sell for anywhere from 4 to 14 days, depending on the sale.
Consignors prepare their items according to the sales specifications. Then they bring their things in at an appointed check-in time to be inspected and accepted. Be sure to weed out any items that are damaged, out of date, or too worn.
These sales are usually very strict about the quality of the items families can consign and inspect each item carefully before accepting it into their sale. These are NOT garage sales! And because it's not a garage sale, the consignors make more money on their stuff than they would if they tried to sell it themselves.
Because it's only held twice a year (usually spring and fall), it creates excitement and a sense of urgency to shop the sale. Customers eagerly anticipate these sales and keep track of them on their calendars; setting aside a whole day for their shopping trip!
Customers appreciate the gathering of high quality; good valued items all in one space and are willing to pay for it.
WHAT'S IN IT FOR YOU?
A consignor generally makes about 65% of the asking price of the items they sell. (They are paid only on the items sold). It's a fantastic way to make some much-appreciated extra cash. It's also a great motivator to clean out your kids closets, toy rooms, garage, back yard, etc.
I have been consigning my three girls' things for 16 years now. The first time I consigned it was a bit overwhelming, but I was determined to figure it out. And boy did I! By my second sale I was making enough money to cover 100% of what I spent at the sale. By my fourth sale, I was making MORE than what I spent. So for 14 years I have been able to get nearly everything I need for my children and, ultimately, coming out with cash in my pocket!
WHEN TO CONSIGN:
The general thinking for most new parents is, "We might have more kids so we'll hang on to these things for awhile." When they DO have another child, most of the things they hung on to are out of date. Manufacturers continually improve the design on baby equipment and toys, so why hang on to older versions? By constantly cycling your things through a consignment sale you are able to make money on these things while they're still "current" and you're able to get the newer, up-to-date versions for your own family.
Every family has items their children don't use anymore…even when you have newborns! How many gifts do you get that never get used? These items are perfect for consignment! All you need is a minimum of 20 items. This gets you in the sale, gives you a feel for how it works AND gets you an early shopping pass!
So, no need to wait until you're "done" having kids. Get started as soon as you have your first!!
PICK A SALE:
My personal favorite sale is ReRuns R Fun. There is so much to love about this organization! Not only are they the very first to bring Children's Consignment to the Omaha area, they are non-profit and donate all of their profits to local and worldwide charities! I love that! They've given away $2.4 Million in donations already! If you want the best experience for your first time consigning, I'd highly recommend starting with ReRuns R Fun! They are the pros and will give you a feel good first time consigning experience!
NEXT WEEK: The Consignment Process
Mary is a mom to three wonderful girls and is a volunteer addict. She loves to be involved in organizations that give back to her community. She is also always looking for great deals for her family and her friends!
Shared at Thrifty Thursday and The Mommy Club