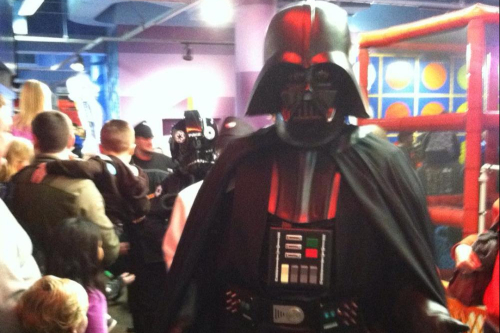 Enjoy 6 exciting family-friendly events this January in Omaha!
Join our growing community and keep updated on Family-Friendly EVENTS EACH WEEKEND plus more Omaha Fun and Sign up for our Free Email Newsletter!
The Indoor Air Show brings the fun and excitement of an air show inside with radio-controlled (R/C) models. Starting at 10:00 a.m., model pilots will demonstrate all of the loops, flips, and barrel rolls in the museum's climate-controlled Durham Restoration Hangar. There will be "learn to fly" safety demonstration and educational booths. The event is from 10:00 a.m. – 2:00 p.m. and is included as part of paid admission. The Museum is open from 9:00 a.m. to 5:00 p.m. daily.
Energy Explorers: A New Interactive Exhibit, also opens on Saturday, January 13, 2018 and will remain open until April 23, 2018.
Bring the whole family to the Owen Marina to participate in outdoor education activities, fishing, winter crafts, and more. Enjoy roasting hot dogs and s'mores over an open bonfire. (Hotdog, Chips, Drink, S'mores Kits, Hot chocolate, and Popcorn for sale.) A Park Entry Permit is required.
Location: Mahoney State Park's Owen Marina, 28500 West Park Highway, Ashland.
Please Note: Events are weather permitting. 
Enjoy Star Wars themed activities like the Star Wars Science Show and make-your-own light sabers (kids-only), while supplies last. Plus, there will be many photo opportunities with more than 20 members of the 501st Central Garrison, and the Imperial March through the museum!
Star Wars Family Night is included with regular museum admission and included for members. All children must be accompanied by an adult, and adults need to pay admission.
Celebrate and enjoy Martin Luther King, Jr. Day with these family-friendly volunteer opportunities and activities in Omaha!
Family Ice Fishing Clinic – Saturday, Jan. 20 (1 – 4 p.m.), FREE with Park Permit
Learn the basics of ice fishing at this Family Ice Fishing Clinic. Game and Parks will host the on-ice clinic Jan. 20 at Lake Wanahoo SRA from 1 – 4 p.m. Limited loaner equipment will be available on a first-come, first-served basis. Bait and instruction will be provided. Participants are encouraged to bring their own equipment. A Park Entry permit is required. All fishing regulations apply.
Location: Lake Wanahoo State Recreation Area, Wahoo, NE. (Approx. 30 miles west of Omaha.)
Please Note: Events are weather permitting. 
See family-friendly movies on Fridays, Saturdays, and Sundays at 10 a.m. Admission is only $3.00.
Participating locations include: Majestic Cinema (144th & Maple, Omaha), Twin Creek Cinema (3909 Raynor Parkway, Bellevue), and Village Pointe Cinema (304 North 174th Street, Omaha).
Find More Fun: