Last weekend, my family joined Skinny Bones Pumpkin Patch for their opening weekend festivities! We always look forward to visiting all of our favorite classic attractions as well as exploring the newest additions. It was the perfect start to another season of fall fun!
Skinny Bones Pumpkin Patch is part of our Omaha Area Pumpkin Patch Guide. We are grateful for their invitation for Joanna, one of our writers, and her family to visit Skinny Bones to experience all of the new attractions, and share them with you.
Join our growing community and keep updated on Omaha family-friendly events and activities and Sign up for our Free Email Newsletter!

See more about Skinny Bones here!
We hit up the jumping pillows and giant Frankenslides first. My kids loved racing down the double slides to see who could reach the bottom fastest.
Next up was getting FREE spooky face paint and sampling some of Skinnybones' homemade fudge. Spoiler alert: it's delicious and totally impossible to choose just one flavor to buy!
The corn pool is a fan favorite, and I'm pretty sure mine could "swim" in there for hours. The dump trucks and bulldozers are a fun addition too!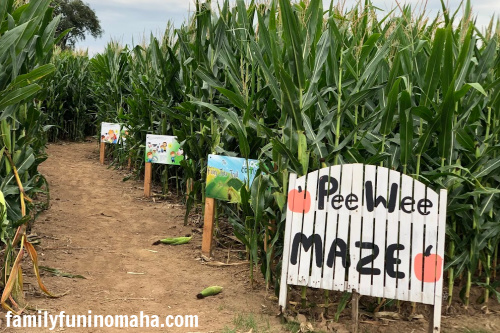 Skinny Bones has two options for corn mazes, and with all three of my kids in tow, we opted for the Pee Wee Maze this trip. There is an adorable walking storybook to keep kids engaged, and the path loops around to keep the journey short and sweet! The path is cleared and accessible for kids of all ages as well as strollers.
Right by the corn mazes is a brand NEW Skinny Bones attraction: Tornado Alley! My little ones were a little apprehensive to go inside, but once the wet and wild tornado simulation started, they were hooked! Definitely leave time to check it out on your next visit!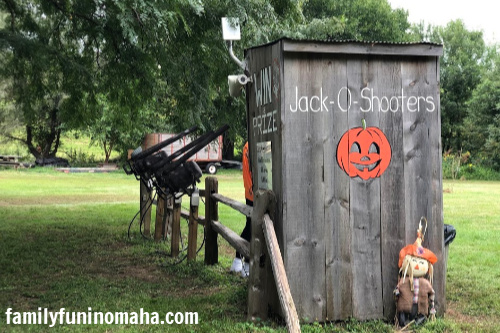 Another highlight was getting to try out the Jack-O-Shooters! One free shot is included with each paid admission. None of us hit any of the targets, but luckily we have all season to practice!
We were so excited to meet Skinnybones' adorable crew of goats, chickens and donkeys. Feed is available for purchase for the petting zoo animals.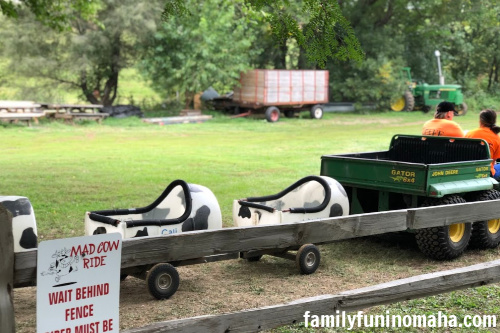 My kids loved hopping aboard the Mad Cow Ride! Little ones can pick from an assortment of cleverly named "cow carts" and take a spin around the farmyard.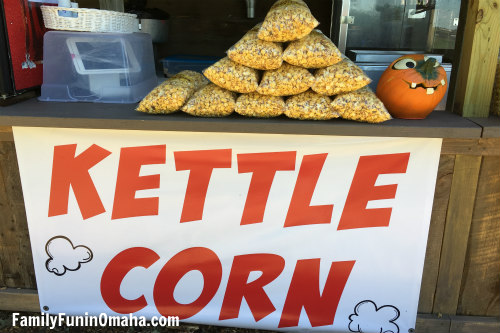 Skinny Bones is known for their absolutely amazing Kettle Corn, and it was a welcome treat to snag a bag for the trip home!
Find even more about Skinny Bones Pumpkin Patch from our previous visit, including information about their amazing scavenger hunt in the corn maze!
Skinny Bones Pumpkin Patch makes a great family getaway and has something for everyone! There's plenty of autumn fun left to experience, so we'll be back soon. Our fall won't be complete until we make a trip back to roast some s'mores!
Find More Fall Fun: