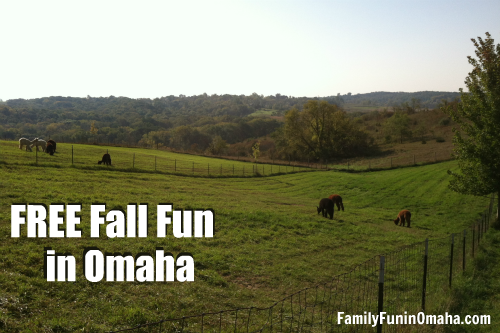 I love Fall in Omaha!  Perfect weather, changing colors, Football, Halloween events, Pumpkin Patches, Hayrack Rides, and campfires all make wonderful family memories.
Enjoy these FREE family events this Fall in Omaha! Check back as more events will be added throughout the season. It is always a good idea to verify the information with the business before visiting.
Find this weekend's fun events in Weekend Fun and more FREE Events in the Omaha Kids Calendar!
Keep updated on the latest Omaha fun and Sign up for our Free Email Newsletter!
FREE Fall Special Events
Opera Omaha kicks off the 2016-2017 season with its fourth annual Opera Outdoors, a fun, family-friendly and free opera concert for the community.
Come early and make your own car for the show. Location: Fat Brain Toys (16909 Burke).
World O Water – September 10 (12 – 4 p.m.)
Canoe Rides, Live Music, Nature Hikes, Live Animals, and more. Location: Chalco Hills.
Bounce house, face painting, apple games, and u-pick apples (pay for what you pick by weight). Alpacas, characters, dance performances, and more. Caramel apples, hot dogs, water, and Gatorade will be available for purchase in the store.
"Sugar Skulls" Ornament Making, Family Fiesta, Preschool Storytime, and more.
Free Outdoor Movies behind the Dairy Chef in Elkhorn (611 Gateway Rd, Elkhorn, NE).

September 10: Jungle Book
October 8: Star Wars: The Force Awakens with a bonfire at the Chef
Themed kid-friendly activities start 30 minutes before the movie, at 5:30 p.m. FREE popcorn during the movie!

September 16: The Peanuts Movie
October 21: The Good Dinosaur
November 18: The Peanuts Holiday Classics
A carnival will be held at 6 p.m. prior to the start of the showing of E.T. the Extra-Terrestrial at 7:30 p.m. Bring blankets and join us on the field at Werner Park to watch this classic movie. Click here for more details and to register (to help them so they can get a headcount).
Children activity zones open throughout Saturday will include Inflatables slides, face painting, caricature artist and more. Location: Outside on the North Lawn of the CenturyLink Center.
Free Admission for two to Participating Museums with ticket (including El Museo Latino, University of Nebraska State Museum – Morrill Hall, and many others statewide!)
Free Open House where visitors can roam the pastures with the alpacas. Carrots are provided for visitors to feed the alpacas.
Kids can explore emergency and military vehicles, semi-trucks, bobcats, race cars and other commercial vehicles and talk to the people who operate them. Other activities will include face-painting, prizes, bouncy tents, food, clowns and more.
See beautiful kites fill the air, plus a rock wall, bounce houses, face painting, free fishing, and more.
Gourd Dance 11:30 a.m. – 12:30 p.m. Powwow 1 – 7:30 p.m. Location: Metropolitan Community College – Fort Omaha Campus, 5300 N. 30th Street, Omaha, NE
Enjoy pumpkin painting, a bounce house, hayrack rides, live music, and more at the final market of 2016.
Explore the trails, cook fire-roasted marshmallows, and learn all about owls. Register online or at any City of Omaha Community Center.
Include demonstrations, areas for the public to fly their own kites, and candy drops for the kids all throughout the afternoon.
Enjoy special events on the First Friday of Every Month.
Exciting demos during the day including repelling off of buildings, blowing up pumpkins, rescuing submerged vehicles, robots in action and more.
Take a hayrack ride (10 – 12), make crafts, and more. Pumpkins are $2. Register online or at any City of Omaha Community Center.
Stilt Walkers, Balloon Artists, Kids Crafts, Carnival Games and Prizes, and more.
A popular event with many kites! Bring your own kite and kids can bring a bag for the candy drop. Location: La Vista Soccer Complex, just South of 66th & Harrison Streets, La Vista.
More events including special Halloween Events will be added throughout the season! It is always a good idea to verify the information with the business before visiting.
Ongoing FREE Kids Programs
Where Books and Art Meet (Registration Required) – Saturdays (2:30 – 3:30 p.m.), FREE
Explore your creative side every week with art projects based on books and illustrations. Classes are taught by professional artists and art teachers in partnership with Arts For All. For children ages 8-12. Location: South Omaha Library.
Fun, educational, hands-on classes for pre-school age children and parents sponsored by ParentSavvy and Fontenelle Forest. Free up to 3x/year with registration.
Many classes and events offered, plus kids can play and check out materials in the Kids Room and Teen Room. Free Membership required.
Free Crafts for Kids
More Fall Fun:
We do our best to share current information in Family Fun in Omaha, but event details may change. It is always a good idea to verify the information before visiting.
Have a wonderful fun-filled Fall!
Other helpful resources: