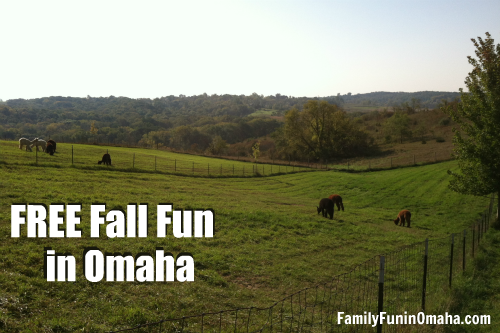 I love Fall in Omaha! Enjoy many FREE family events this Fall in Omaha! 
It is always a good idea to verify the information with the business before visiting.
Join our growing community and keep updated on Omaha family-friendly events and activities and Sign up for our Free Email Newsletter!
FREE Fall Events in Omaha
Enjoy special events on the first Friday of every month.
September theme: Fiesta!
October theme: TBA
Location: Union Pacific Museum, 200 Pearl St, Council Bluffs.

World O! Water – September 8, 2018 (Noon – 4 p.m.), FREE
Canoe rides, rock wall climbing, live music, face painting, nature hikes, live animals. In addition, there will be arts and crafts, educational materials and discussions regarding water conservation, quality and recreation. Lunch will be provided on a first come, first serve basis.
Location: Papio-Missouri NRD / Chalco Hills, 8901 S. 154th St., Omaha.
See live exotic animals, hawks and owls. Walk among butterflies, get your face painted, break open geodes, see water creatures, go on a scavenger hunt for birds' nests and animal tracks, learn about honey bees, and more. Free admission and refreshments.
Location: Heron Haven, 11809 Old Maple Rd., Omaha.
Flix at the Chef – September 8, 2018 (7:30 – 10 p.m. Movie starts at dusk), FREE
Watch the movie Wonder, beginning at dusk. Free popcorn is provided. Food, drinks, and ice cream can be purchased at Dairy Chef.
Location: Behind Dairy Chef, 3223 N. 204th St., Elkhorn, NE
Participate in a fiesta, get crafty with Alebrijes (brightly colored fantastical creatures traditional in Mexican folk art), join in a bilingual storytime, and more.
Sept. 14: Saddlebrook Branch Library
Sept. 15: Willa Cather Branch Library
Sept. 17: Milton R. Abrahams Branch Library
Sept. 18: Charles B. Washington Branch Library
Sept. 19: W. Dale Clark (Main) Library
Sept. 20: South Omaha Library
Sept. 21: W. Clarke Swanson Branch Library
Sept. 22: A.V. Sorensen Branch Library
The Chalk Art Festival is a weekend-long live art celebration. Local/regional artists and professional madonnaris will transform patches of Midtown Crossing pavement into pastel chalk masterpieces.
Location: Midtown Crossing at Turner Park, 3110 Farnam St., Omaha.
The Fort Omaha Intertribal Powwow honors the traditional dance, music, artistry, oral history and foods of various tribes across Nebraska and the surrounding region.
Location: Metropolitan Community College Fort Omaha Campus, 5300 N. 30th St., Omaha.
A carnival will be held at 6 p.m. prior to the showing of "Back to the Future" at 7:30 p.m. Bring blankets and come on the field at Werner Park to watch this classic movie. Concession stands will be open. The annual movie night is in support of Children's Hospital and Medical Center. Help support the hospital and the amazing, life-saving work they do for children in our community. Donations will be accepted at the gate.
While the event is free, guests are encouraged to RSVP here.
Location: Werner Park, 12356 Ballpark Way, Papillion, NE.
Roam the pastures with 35 alpacas. Feed an alpaca (food is provided). See the baby crias. Browse the wide variety of alpaca products for sale.
Location: 7016 County Road 39, Fort Calhoun, NE
Come for a fun evening of activities and an outdoor viewing of the Disney/Pixar Movie COCO. Activities will include face painting and coloring paper guitars.
The inside activity begins at 6 p.m. and the movie will start at 7:00 p.m. Participants are encouraged to bring a lawn chair or blanket to sit on.
Location: Mockingbird Hills Community Center Front Lawn, 10242 Mockingbirg Dr., Omaha.
Celebrate National Fire Safety Month in our hands-on workshop where you and your child can build a model fireboat.
Free hayrack rides, bounce house for the kids, pumpkin painting, live music, pumpkin pie eating contest, craft vendors, specialty products from your favorite local farmers and more.
Take a ride to their pumpkin patch, make fall craft, explore the trails, play games, and more. Small pumpkins are $2 each. RSVP online at parks.cityofomaha.org under "Activity Registration" button.
Location: Hummel Park Nature Center, 3033 Hummel Park Rd., Omaha.
Fall Festival in La Vista – October 13, 2018 (Concert at 5 p.m., movie immediately after), FREE
Enjoy a rockin' concert with Eckophonic, followed by Cars 3. Plus, there will be fire pits, s'mores, outdoor games, and more for the whole family.
Location: La Vista City Hall Campus, 8116 Park View Blvd., LaVista
A popular event with many kites! Bring your own kite and kids can bring a bag for the candy drop.
La Vista Soccer Complex, just south of 66th & Harrison Streets, La Vista.
Learn all about turkeys and their bird friends, make a turkey caller, visit the chickens in their coop, go on a hike and enjoy many other hands-on activities for the family. RSVP online at parks.cityofomaha.org under "Activity Registration" button.
Location: Hummel Park Nature Center, 3033 Hummel Park Rd., Omaha.
It is always a good idea to verify the information with the business before visiting.
Find more FREE Fun
We do our best to share current information in Family Fun in Omaha, but event details may change. It is always a good idea to verify the information before visiting.
Have a wonderful fun-filled Fall!