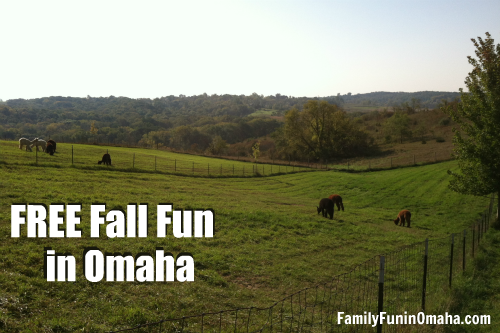 I love Fall in Omaha!  Perfect weather, changing colors, Football, Halloween events, Pumpkin Patches, Hayrack Rides, and campfires all make wonderful family memories.
Enjoy these FREE family events this Fall in Omaha! It is always a good idea to verify the information with the business before visiting.
Find this weekend's fun events in Weekend Fun!
Keep updated on the latest Omaha fun and Sign up for our Free Email Newsletter!
FREE Fall Special Events
Kids can explore emergency and military vehicles, semi-trucks, bobcats, race cars and other commercial vehicles and talk to the people who operate them. Other activities will include face-painting, prizes, bouncy tents, food, clowns and more. Location: First Data/UNO parking lots, just south of 69th & Pacific.
World O! Water – September 9, 2017 (12 – 4 p.m.), FREE
Canoe rides, rock wall climbing, live music, face painting, nature hikes, live animals. In addition, there will be arts and crafts, educational materials and discussions regarding water conservation, quality and recreation. Lunch will be provided on a first come, first serve basis. Location: Papio-Missouri NRD / Chalco Hills, 8901 S. 154th Street, Omaha.
Flix at the Chef – September 9, 2017 (Movie starts at dusk)
Free outdoor movie, The LEGO Batman Movie, behind the Dairy Chef in Elkhorn (611 Gateway Rd., Elkhorn, NE). Free popcorn is provided while food, drinks, and ice cream are for sale at Dairy Chef.
Biscuit wants to meet the kids at South Omaha Library, so he is visiting for a special storytime. Location: South Omaha Library, 2808 Q St. Omaha.
Special after school program featuring the Lincoln Symphony Orchestra. Families will listen to "The Man with the Violin" by Kathy Stinson, learn about instruments, see a mini instrument demonstration, and have the opportunity to play with instruments.
Families are invited to the library for a morning of fall-inspired crafts, games and more. Treats will be provided.
Get crafty with woven rugs and worry dolls, movie night featuring Selena, family Lotería, move to the music, bilingual storytime plus art, and more.
Fun, educational, hands-on classes for pre-school age children and parents sponsored by ParentSavvy and Fontenelle Forest. Free with registration.

September 15, 2017 (9:30 – 11 a.m.); FREE with registration
October 20 – Falling Leaves
November 17 – Busy Squirrels
While the event is free, guests are encouraged to RSVP here:
www.centrismovienight2017.eventbrite.com. A carnival will be held at 6 p.m. prior to the start of the showing of Willy Wonka and the Chocolate Factory at 7:30 p.m. Bring blankets and join in on the field at Werner Park to watch this classic movie.
Free Open House where visitors can roam the pastures with the alpacas. Carrots are provided for visitors to feed the alpacas.
Action Day is a joint venture between the First Responders Foundation and the Omaha Police Department and is a day filled with action and learning for kids! See exciting demos throughout the day, including blowing up pumpkins, rescuing submerged vehicles, robots in action, and more. Location: Omaha Public Safety Training Center, 11616 Rainwood Road, Omaha.
Enjoy giant kite flying demonstrations, a rock wall, bounce houses, food trucks, DJ, and more.
Dancers in colorful regalia perform throughout the day, including the Gourd Dance that honors military veterans. This year's Fort Omaha Intertribal Powwow will highlight the history of the powwow with it being the 25th anniversary. Location: Metropolitan Community College Fort Omaha Campus, 5300 N. 30th St.
Enjoy special events on the First Friday of Every Month. FREE.

October 6 (5 – 7 p.m.): ¡Todos a Bordo!: Hispanic Heritage Night at the Museum
Free hayrack rides, bounce house for the kids, pumpkin painting, live music, pumpkin pie eating contest, craft vendors, specialty products from your favorite local farmers and more.
Explore the trails at night, cook fire roasted marshmallows, and learn all about owls from a guest speaker from Raptor Recovery. Remember to bring a flashlight. RSVP online at parks.cityofomaha.org under "Activity Registration" button.
A popular event with many kites! Bring your own kite. Location: La Vista Soccer Complex (just South of 66th & Harrison Streets, La Vista).
Watch a magician perform, enjoy Halloween crafts, play carnival games, win prizes, take your picture with your favorite costumed character, and more.
Take a ride to their pumpkin patch, make fall craft, explore the trails, play games, and more. Pumpkins are $2 each.
More events including special Halloween Events will be added throughout the season! It is always a good idea to verify the information with the business before visiting.
Ongoing FREE Kids Programs
Many classes and events offered, plus kids can play and check out materials in the Kids Room and Teen Room. Free Membership required.
Free Crafts for Kids