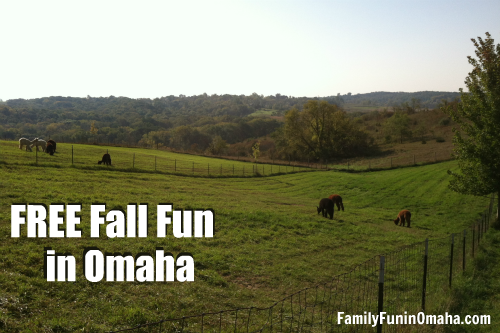 I love fall in Omaha! Enjoy many FREE family events this fall in Omaha! 
It is always a good idea to verify the information with the business before visiting.
Join our growing community and keep updated on Omaha family-friendly events and activities and Sign up for our Free Email Newsletter!
MORE FALL FUN:
FREE Fall Events in Omaha
Watch flag carrying honor guards, marching bands, labor unions, businesses, floats, animals, horses, clowns and roaming artists in Downtown Omaha.
Location: The SeptemberFest parade starts at 16th St. and Cass St., travels south on 16th St. to Capitol Ave., continues east on Capitol to 10th St. and concludes by proceeding north on 10th St. to Mike Fahey St.
Enjoy special events on the first Friday of every month.
September theme: Fiesta!
October theme: TBA
Location: Union Pacific Museum, 200 Pearl St., Council Bluffs, IA.
Touch-a-Truck – Sept. 7 (10 a.m. – 1 p.m.)
Kids, accompanied by their parents or guardian, can explore emergency and military vehicles, semi-trucks, bobcats, race cars and other commercial vehicles and talk to the people who operate them. Other activities will include face-painting, prizes, bouncy tents, food, clowns and more.
Location: First Data/UNO parking lots, just south of 69th & Pacific, Omaha, NE.
Experience live demonstrations, science experiments, games, and canoe rides while talking to local experts about water quality, conservation, and recreational activities.
Location: Papio-Missouri NRD/Chalco Hills, 8901 S. 154th St., Omaha, NE.
Build a scarecrow planter (Sept.). Workshops designed for children ages 5-12
Get outdoors and reconnect with nature through FREE activities for all ages. Activities include: campfire building, s'mores, face painting, kids games, barn photo booth, moonlight hike, trolley property tours, lumberjack games, Makerspace, tree climbing, insect collecting & display, archery, free giveaways, picnic areas.
Location: 2106 Horning Rd., Plattsmouth, NE.
Bring your chairs and blankets and enjoy a free family movie on Friday nights. (No orchard activities on movie nights.)
Location: Ditmars Orchard & Vineyard, 19475 225th St., Council Bluffs, IA.
Flix at the Chef – Sept. 14 (9 – 11 p.m. Movie starts at dusk)
Watch the movie Big Hero 6, beginning at dusk. Free popcorn is provided. Food, drinks, and ice cream can be purchased at Dairy Chef.
Location: Behind Dairy Chef, 3223 N. 204th St., Elkhorn, NE
A carnival will be held at 6 p.m. prior to the showing of "Grease" at 7:30 p.m. Bring blankets and come on the field at Werner Park to watch this classic movie. Concession stands will be open. This annual movie night is in support of Children's Hospital and Medical Center. Help support the hospital and the amazing, life-saving work they do for children in our community. Donations will be accepted at the gate.
While the event is free, guests are encouraged to RSVP here.
Location: Werner Park, 12356 Ballpark Way, Papillion, NE.
Participating museums include The Durham Museum, Morrill Hall in Lincoln, and many more!
1) Select the Museum you want to visit. 2) Sign up for your free Museum Day Ticket!
(Note: One ticket per email address, each ticket admits 2 people to select museum.)
Celebrating Native American cultures, the powwow honors the traditional dance, music, artistry, oral history and foods of various tribes across Nebraska and the surrounding region including, but not limited to, Ponca, Omaha, Santee Sioux and Winnebago.
Location: Metropolitan Community College Fort Omaha Campus, 5300 N. 30th St., Omaha, NE.
Enjoy a rockin' concert by Pat O, followed immediately after by the movie Captain Marvel. Additional activities include fire pits, s'mores, food trucks, outdoor games, and more for the whole family. Concert 5-7 p.m. Movie: immediately after the concert.
Location: City Hall Campus, 8116 Park View Blvd., La Vista, NE.
Learn more about owls and other raptors with a presentation from Fontenelle Forest Raptor Recovery. Plus, enjoy crafts, hikes, outdoor games, and owls!
Location: 3033 Hummel Park Rd., Omaha, NE.
Come out to the beautiful hills of Fort Calhoun, NE and roam the pastures with the alpacas. See the crias (baby alpacas) playing with one another, feed the alpacas (food is provided), take pictures, relax and enjoy the picturesque views, and shop for alpaca products.
Location: 7016 County Road 39, Fort Calhoun, NE.
We're Saving the Day for Families! Superhero Sunday, a FREE family fun day, is brought to you by CHI Health. Join in the fun on Sept. 29 from noon to 4 pm at Werner Park. Come in costume, stay for fun!
Location: Werner Park, 12356 Ballpark Way, Papillion, NE.
Heritage Days – Oct. 5 – 6, [NE State Park Entry Permit required for events at Fort Atkinson State Historical Park]
Hands-on learning demonstrations, children's games, traditional foods, parade, and music. A Nebraska State Park Entry Permit is required.
Location: Fort Atkinson State Historical Park, 201 S. 7th St., Fort Calhoun, NE.
Enjoy the market along with face painting and a bounce house for the kids, live music, craft vendors, specialty items, mini pumpkin decorating, and free hayrack rides.
Location: Village Pointe, 17305 Davenport St., Omaha, NE.
Halloween campsite decorating, kids' costume contest, pumpkin carving contest, kids' games and a bonfire. A Nebraska State Park Entry Permit is required.
Location: Mahoney State Park, 28500 W. Park Hwy., Ashland, NE.
Bring the whole family and spend the day enjoying: hatchet throwing, archery, marshmallow roasting, reptile shows, pellet guns and more. All activities are FREE!
Lunch will be available from 11 a.m. to 1 p.m. (Hot dog or Sloppy Joe w/ chips and drink for $3. Canned pop or water for $1.) A Nebraska State Park Entry Permit is required.
Location: Platte River State Park, 14421 346th St., Louisville, NE.
Hummel Harvest Nights – Oct. 11 & 18 (6 – 8:30 p.m.); [REGISTER]
These evenings include hiking, campfires, s'mores, crafts, games and other activities.
Location: Hummel Park Nature Center, 3033 Hummel Park Rd., Omaha, NE.
Look for the Family Fishing Trailer, or a gathering of NGPC Staff and volunteers, where loaner rods and reels, bait and fishing instruction are available free to participants. This is the perfect opportunity for people of all ages who have never been fishing or have not fished for years to learn. All participants ages 16 and older need a fishing license (OutdoorNebraska.org for permits). This is a cooperative event with Omaha Parks Department and will feature information about trout fishing.
Location: Fontenelle Lake, 4407 Fontenelle Blvd, Omaha.
Kids can wear their costumes and visit the Book or Treat Stations, plus more!
Location: Omaha Old Market, 1100 Howard St., Omaha, NE.
Plus, MANY FREE Halloween Events coming this October!
It is always a good idea to verify the information with the business before visiting.
Find more FREE Fun
We do our best to share current information in Family Fun in Omaha, but event details may change. It is always a good idea to verify the information before visiting.
Have a wonderful fun-filled Fall!