Enjoy the best family-friendly things to do this June in Omaha!
Community Fishing events, Do Space Summer Passport Program, Living History Weekend, Lightning Bug Party, Outdoor Movies and Concerts, Spraygrounds, and more!
Join our growing community and keep updated on Omaha family-friendly events and activities and Sign up for our Free Email Newsletter!
2021 Summer Fun Guides:
PLEASE NOTE: As things continue to rapidly change during this time, it is always a good idea to verify details before visiting.
BEST THINGS TO DO IN JUNE IN OMAHA
Enjoy movies at Midtown Crossing, Flix at the Chef, Ditmar's Orchard, and more!
Enjoy a variety of FREE Summer Concerts in the Omaha Area, perfect for relaxing on a warm summer evening!
Stay cool on a hot, summer day with FUN Hydrant Parties at various locations in Omaha and Council Bluffs!
Bennington Daze, Elkhorn Days, Blair's Gateway to the West Days, Springfield Days, and Papillion Days are all in June!
Little ones love running through spraygrounds! Try a new one this Summer!
Get a couple stamps this June by visiting passport stops in Nebraska!
Fat Brain Toys offers families a mix of Tuesday morning, Saturday morning, and Thursday afternoon events! See schedule of events here.
Location: Fat Brain Toys, 16909 Burke St., Ste. 131, Omaha, NE.
Omaha Public Library is bringing some of your favorite entertainers and organizations to your home this summer with a series of exciting virtual events!
Virtual Family Storytimes, Bilingual Storytimes, Pajama Storytimes, and Out & About Storytimes are offered throughout the month. Discover all of them here. [REGISTER]
Community Fishing Nights occur across the area, where you will find loaner fishing equipment, bait and staff to assist you. At these events, Nebraska Game and Parks staff and Certified Fishing Instructors teach families the basics of this fun and relaxing activity.
Learn about trout fishing and all there is to know about catching this popular fish.
Location: Fontenelle Park, 4405 Fontenelle Blvd., Omaha, NE.
Celebrate National Donut Day on Friday, June 4, 2021, with these fun specials at participating locations!
STEM in the City – June 4 (11 a.m. – 5 p.m.), FREE
The SAC Museum is taking its STEM programs on the road to Omaha! The free event will feature science, technology, engineering and math activities with interactive challenges and displays, live demonstrations and entertainment.
Travel to each STEM station to collect stamps for your passport and turn it in for a prize once it's complete!
Location: The Venue at Highlander, 2120 N. 30th St., Omaha, NE.
Do Space Summer Virtual Kickoff (Saturday, June 5th, at 10:00 am on Zoom): The official launch of Do Space Summer 2021 with a virtual event PACKED with activities. Find the Schedule here.
Do Space Summer Passport Program: Code, Make, Learn, & Explore this summer with the Do Space Summer Passport. Explore Omaha, learn new things, and have fun. Their Summer Passport Program provides a FREE resource that engages children of all ages in tech-related educational activities. Passports can be picked up at Do Space starting June 5th and they can also be accessed digitally at dospace.beanstack.org.
Summer Project Kits: Do Space is offering two new projects to take home and complete every two weeks throughout June and July. View the project schedule for release dates and instructions.
Visitors will be able to glimpse the activities that would have taken place at this 1820's era outpost such as blacksmithing, carpentry, coopering, tin smithing, and more will be demonstrated throughout both days. Period crafts will also be highlighted: spinning, weaving, and quilting.
A valid Nebraska Park Entry Permit is required for all vehicles to enter the park and can be purchased at the site. A per person fee is required at the Harold W. Andersen Visitor Center of $2 per adult and $1 per child.
The 2021 Omaha Summer Arts Festival (OSAF) will feature a mix of online, virtual, and outdoor activities that celebrate the arts and support local artists. A central theme to "Put the Heart in Omaha Art" has been developed and will be reflected in various ways throughout this year's programs and events.
Rides, carnival games, pony rides, and snacks for the kids. Part of Elkhorn Days celebration.
Location: Lord of Life Lutheran Church, 20844 Bonanza Blvd., Elkhorn, NE.
Join Mr. David for a Facebook Live storytime on the City Hall Campus. In the afternoon at the Library, dinosaur grab-n-go fun kits will be available.
Location: La Vista City Hall, 8116 Park View Blvd., La Vista, NE & La Vista Public Library, 9110 Giles Rd., La Vista, NE.
Kids of all skill levels (and parents) live it up at the Fan Fest while watching little superstars participate in player clinics, Combine Corner, and other games.
Location: Bellevue East High School, 1401 High School Dr., Bellevue, NE.
Register your child to build a 4×4 vehicle in July. (Reserved kits can be picked up in-store July 10-11.)
The Kids Funfare at Regency Shopping Center is free of charge and is located in the Center Courtyard outside of Pottery Barn Kids.
Location: 120 Regency Pkwy, Omaha.
Omaha Freedom Festival – June 19 [Get ticket ahead of time for free festival or paid concert ticket due to capacity limits]
The festival will provide cultural and historical celebration in addition to education, entertainment and exposure to resources from noon to midnight at the Malcolm X Memorial Foundation's outdoor Amphitheater.
Festival Details: 12-5:30pm – Get Your Free Festival Day Pass – Family-friendly activities, Kid Zone, Community Connections, Local Artists & Musicians, and more. Each attendee including children must have a Day Pass accessible (physical or electronic) at entrance for check-in.
6:30pm-Midnight – From 6:30pm to Midnight you must have a purchased General Admission Ticket for $25 or a VIP Ticket.
Location: Malcolm X Memorial Foundation Outdoor Amphitheater, 3448 Evans Street, Omaha.
Families can "visit" countries of origin; meet and purchase arts and crafts directly from artisans, enjoy music, dance, poetry, and fashions; and purchase cuisine from around the world from on-site food trucks.
Location: Joslyn Art Museum, 2200 Dodge St., Omaha, NE.
Summer Fest activities include a bounce house, a 45' obstacle course, a 65' three-lane obstacle course, free face painting, lawn games, an on-site coloring contest, a chalk art mural project, and prize drawings!
Location: River's Edge, 4250 River's Edge Pkwy., Council Bluffs, IA.
From pop and country to rap and rock n' roll, these goofy guys perform a wide variety of original, family-friendly songs about all the things kids love.
Location: Shadow Lake Towne Center Amphitheater, 72nd St & Highway 370, Papillion.
Splash & Dash – June 26 (9 a.m.), $10 includes t-shirt [REGISTER]
In this new two-part recreational race event participants will run about a half-mile followed by swimming about 50 yards. Two age divisions: 8-10 years and 11-13 years.
Location: Spring Lake Pool, 4020 Hoctor Blvd., Omaha, NE.
Fun For The Whole Family! Come celebrate at the 2nd annual Red, White, & Blue Block Party. This free event includes waterslides, a bounce house, live music, outdoor games, delicious free food, giveaways from local vendors, firetruck tours, a sports camp for kids and so much more! Come with your family and invite your friends.
Location: Heartland Hope Mission, 2021 U Street, Omaha.
Lightning Bug Party – June 26 (7:30 p.m. – dusk), FREE [REGISTER]
Family-friendly activities include guided nature hikes, games, crafts, archery, and s'mores. Stay until dusk to see the lightning bugs emerge, and bring your own jar to decorate and to catch and release these amazing insects.
Location: Hummel Nature Center, 3033 Hummel Park Rd., Omaha, NE.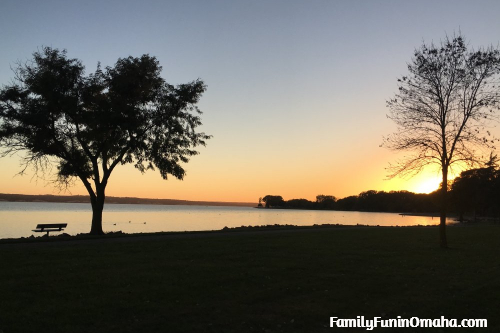 Choose from a variety of locations that are not too far from Omaha. Explore a new destination, go on an adventure, and create new memories!
Day Trips, Road Trips, Cabins to Rent, and more!
Members of certain libraries can check out a pass to visit one of the following locations:
Durham Museum – Members of all 12 Omaha Public Library branches, Bellevue Public Library, Bennington Public Library, Council Bluffs Public Library, Fremont Public Library.
Fontenelle Forest – Members of the Omaha Public Library, Bellevue Public Library, or Council Bluffs Public Library.
Lauritzen Gardens – Members of the Omaha Public Library, Bellevue Public Library, or Council Bluffs Public Library.
Browse our 2021 Summer Camp Guide available now! From Art Camps to Specialty Camps and themes for every age and interest, you are sure to find one for your kids.
Exciting News! Now you can SEARCH SUMMER CAMPS by:

Type of Camp (Theme, All-Day, Half-Day, Extended Care, + more!)
Age Group
Week of Camp
Find more Helpful Resources: