Enjoy the best family-friendly things to do this June in Omaha!
Community Fishing events, Do Space Summer Passport Program, Living History Weekend, Lightning Bug Party, Outdoor Movies and Concerts, Spraygrounds, and more!
Join our growing community and keep updated on Omaha family-friendly events and activities and Sign up for our Free Email Newsletter!
Summer Fun Guides:
PLEASE NOTE: As things continue to rapidly change during this time, it is always a good idea to verify details before visiting.
BEST THINGS TO DO IN JUNE IN OMAHA
Code, Make, Learn, & Explore this summer with the Do Space Summer Passport. Explore Omaha, discover new things, and HAVE FUN. The Summer Passport Program provides a free resource that engages Omaha youth in tech-related educational activities.
Registration starts June 4, 2022. Register online using Beanstack: DoSpace.Beanstack.org.
Enjoy movies at Midtown Crossing, Flix at the Chef, Ditmar's Orchard, and more!
Enjoy a variety of FREE Summer Concerts in the Omaha Area, perfect for relaxing on a warm summer evening!
Stay cool on a hot, summer day with FUN Hydrant Parties at various locations in Omaha and Council Bluffs!
Bennington Daze, Elkhorn Days, Blair's Gateway to the West Days, Springfield Days, and Papillion Days are all in June!
Little ones love running through spraygrounds! Try a new one this Summer!
Get a couple of stamps this June by visiting passport stops in Nebraska!
Dinosaur Revolution – May 28 – Sept. 4 (10 a.m. – 4 p.m.), Included with regular admission
Uncover dinosaur facts and fossils in Dinosaur Revolution as you live large in reptilian role-play activities, undertake three Mesozoic Missions spanning 150 million years, and mimic dinosaur behavior.
Location: The Durham Museum, 801 S. 10th St., Omaha, NE.
Learn about trout fishing and all there is to know about catching this popular fish.
Location: Fontenelle Park, 4405 Fontenelle Blvd., Omaha, NE.
Community Fishing Nights occur across the area, where you will find loaner fishing equipment, bait and staff to assist you. At these events, Nebraska Game and Parks staff and Certified Fishing Instructors teach families the basics of this fun and relaxing activity.
Celebrate National Donut Day on Friday, June 3, 2022, with these fun specials at participating locations!
Taste of Omaha – June 3 – 5, FREE admission
All stage shows during the 3-day extravaganza are free to attend.
NEW Location! Elmwood Park, 6232 Pacific St., Omaha, NE.
Police and fire exhibits, music, snacks, clowns, information booths, and a free bike raffle, too!
Location! Turner Park at Midtown Crossing, 3110 Farnam St., Omaha, NE.
Visitors will be able to glimpse the activities that would have taken place at this 1820's era outpost such as blacksmithing, carpentry, coopering, tinsmithing, and more will be demonstrated throughout both days. Period crafts will also be highlighted: spinning, weaving, and quilting.
A valid Nebraska Park Entry Permit is required for all vehicles to enter the park and can be purchased at the site. A per person fee is required at the Harold W. Andersen Visitor Center of $2 per adult and $1 per child.
All of your favorites return with 135 artists from throughout the US, local musicians, a hands-on Children's Fair and Young Artist Exhibition, food, chalk art, and more!
NEW Location! Aksarben Village, 67th & Center, Omaha, NE.
Bring the entire family! BBQ lunch includes hamburgers/hot dogs, chips, and cookies (first 600 guests). Plus, there is a dunk tank, pony rides, bounce houses, obstacle course, carnival games, prizes, tattoos, popcorn, sno-cones, and balloon creations by TomTheBalloonGuy and Anthony the Balloon Dude.
Location: Lord of Life Lutheran Church, Skyline Ranches Campus, 20844 Bonanza Blvd., Elkhorn, NE.
Ms. Jodi and Mr. David explore everything dinosaur!
Community Center (Ages 5 & under), 10:30 – 11:30 a.m.
Library (Ages 8 & under), 2 – 3 p.m.
Location: La Vista Community Center, 8116 Park View Blvd., La Vista, NE & La Vista Public Library, 9110 Giles Rd., La Vista, NE.
From pop and country to rap and rock n' roll, these goofy guys perform a wide variety of original, family-friendly songs about all the things kids love.
Location: SprayGround at Shadow Lake Towne Center, 7775 Olson Dr., Papillion, NE.
Register (opens May 7th) your child to build a miniature Putting Green Kit in June.
Omaha Freedom Festival – June 18 (12 – 5 p.m.), [REGISTER to receive FREE day pass]
Cultural and historical education, Kidz Zone, local artists, musicians, food and beverage vendors, free health screenings, and an evening concert.
Location: Malcolm X Outside Event Plaza, 3448 Evans St., Omaha, NE.
This annual fundraiser for the Museum will include American Made cars highlighting nearly 90 years of engineering and innovation.
Location: SAC Museum, 28210 W. Park Hwy., Ashland, NE.
Attempt to break the world record for playing the largest game of catch! Plus, enjoy baseball-themed games and activities for all ages. The event ends at dusk with a screening of movie Field of Dreams.
Location: Tom Hanafan River's Edge Park, 4200 Avenue B, Council Bluffs, IA.
Enjoy a concert by a local band, immediately followed by a movie on our outdoor screen.
Locations: Central Park Lakes, 8305 Park View Blvd., La Vista, NE.
3rd annual Red, White, & Blue Block Party on Saturday, June 25th from 11 am – 2 pm at 2021 U Street. This free event includes waterslides, a bounce house, live music, delicious free food, giveaways from local vendors, firetruck tours, a sports camp for kids and so much more! Come with your family and invite your friends. Take the cue, it's true, there's lots of fun things to do at the Red, White, & Blue Block Party! See event flyer here.
Location: Heartland Hope Mission, 2021 U St., Omaha, NE.
Lightning Bug Party – June 25 (7:30 p.m. – dusk), FREE [RSVP]
Family-friendly activities include guided nature hikes, games, crafts, archery, and s'mores. Stay until dusk to see all the lightning bugs come out! Bring your own jar to decorate and to catch and release these amazing insects.
Location: Hummel Nature Center, 3033 Hummel Rd., Omaha, NE.
This free event will be fun for the whole family featuring children's games, inflatables, face painting, balloon artists, Disney princesses & Marvel characters, plus an Imagination Movers concert and an outdoor movie!
Location: River's Edge Park, 4200 Avenue B, Council Bluffs, IA
This free drop-in program features fun, pop-up recreational programming designed for kids to attend with friends, parents, or caregivers and features themed games and activities.
Location: Charles E. Lakin YMCA, 235 Harmony St., Council Bluffs, IA.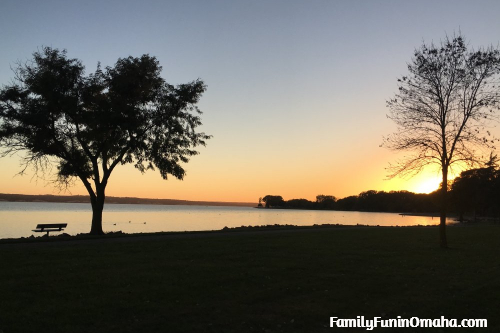 Choose from a variety of locations that are not too far from Omaha. Explore a new destination, go on an adventure, and create new memories!
Day Trips, Road Trips, Cabins to Rent, and more!
Members of certain libraries can check out a pass to visit one of the following locations:
Durham Museum – Members of all 12 Omaha Public Library branches, Bellevue Public Library, Bennington Public Library, Council Bluffs Public Library, Fremont Public Library.
Fontenelle Forest – Members of the Omaha Public Library, Bellevue Public Library, or Council Bluffs Public Library.
Lauritzen Gardens – Members of the Omaha Public Library, Bellevue Public Library, or Council Bluffs Public Library.
Browse our 2022 Summer Camp Guide available now! From Art Camps to Specialty Camps and themes for every age and interest, you are sure to find one for your kids.
Exciting News! Now you can SEARCH SUMMER CAMPS by:

Type of Camp (Theme, All-Day, Half-Day, Extended Care, + more!)
Age Group
Week of Camp
Find more Helpful Resources:
Summer Fun Guides: