Looking for fun this February?
Enjoy the best family-friendly events this February in Omaha!
(Image provided by Fantastical Folklore at Lauritzen Gardens)
Join our growing community and keep updated on Family-Friendly EVENTS EACH WEEKEND plus more Omaha Fun and Sign up for our Free Email Newsletter!
Best February Events in Omaha
This enchanting exhibit, set in the garden's plant kingdom, brings to life the legends and lore from around the globe and celebrates the links between the natural and mythical worlds.
Location: Lauritzen Gardens, 100 Bancroft St., Omaha, NE.
Cookie decorating and fun arts and crafts. Limited capacity due to COVID. Participants MUST register online at webtrac.cityofomaha.org.
Learn To: Snowshoe – Feb. 13 (2 p.m.), $5 [REGISTER – EVENT IS FULL. CAN ADD YOUR NAME TO WAITLIST]
Learn the basics of snowshoeing during this hands-on program.
Ages 5 and up.
Location: Hitchcock Nature Center, 27792 Ski Hill Loop, Honey Creek, IA.
The Omaha Zoo and Aquarium thanks Healthcare Workers and Emergency Responders with Free Admission for them and their immediate families, Feb. 14 – 21! Must show Work ID for entry.
Visit the museum at any time during the Family Fun Weekend to enjoy themed activities and character meet and greets. There will also be a virtual activity online for families who are unable to visit the museum.
Activities are included with regular museum admission. All families are encouraged to reserve their admission tickets in advance due to limited capacity that will ensure safe social distancing.
Location: 500 S. 20th St., Omaha, NE.
Try Hockey for FREE – Feb. 20 (11 a.m. – 1 p.m.), FREE [REGISTER]
This event is designed to provide kids, between the ages of 4 to 9, a completely free experience to try youth hockey. A limited amount of equipment is available to borrow. Their top coaches will be on the ice to assist your child in learning the basics. Your son or daughter does not need any previous skating or hockey experience.
Location: Sidner Ice Arena, 1558 E. Military Ave., Fremont, NE.
Join Girl Scouts Spirit of Nebraska and bring a friend to the Winter Hike, a family-friend, socially distanced free hike and scavenger hunt. Learn about Girl Scouts in this fun outdoor activity! Event is outdoors only with no access to indoor buildings or bathrooms.
Location: Camp Maha, 17114 S. 63rd St., Papillion, NE.
Each Tuesday in January and February, the temperature at 6 a.m. is the price of an Original Runza® Sandwich with purchase of a medium Fry and Medium Drink! Additions and substitutions are extra.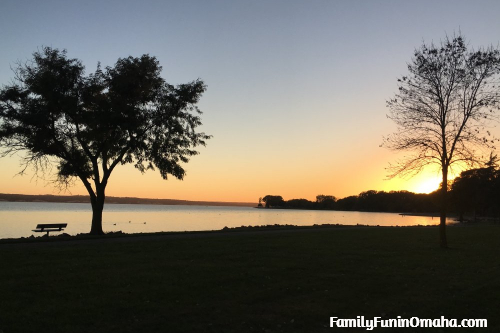 Choose from a variety of locations that are not too far from Omaha. Explore a new destination, go on an adventure, and create new memories!
Are you looking for the perfect cabin to rent within 3 hours of Omaha? Choose from many cabin rentals near Omaha that offer a variety of activities, family-friendly amenities, and a chance to enjoy the great outdoors!
Many have made special accommodations for this year including drive-thru or pick up options. Find one here!
Members of certain libraries can check out a pass to visit one of the following locations:
Durham Museum – Members of all 12 Omaha Public Library branches, Bellevue Public Library, Bennington Public Library, Council Bluffs Public Library, Fremont Public Library.
Fontenelle Forest – Members of the Omaha Public Library, Bellevue Public Library, or Council Bluffs Public Library.
Lauritzen Gardens – Members of the Omaha Public Library, Bellevue Public Library, or Council Bluffs Public Library.
Browse our 2021 Summer Camp Guide available now! From Art Camps to Specialty Camps and themes for every age and interest, you are sure to find one for your kids.
Choose from a variety of local options to enjoy this fun winter sport!
Looking for a fun activity this Winter? Plus, they make their own snow if there isn't enough!

Sledding, snowshoeing, indoor activities – Explore the Winter Fun Guide for Family-Friendly Things to Do in Omaha this Winter!