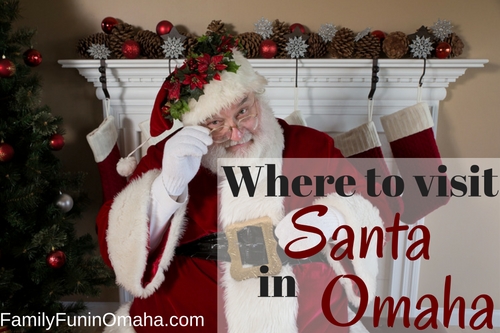 Santa and his elves will be all over Omaha and Council Bluffs to visit with boys and girls and share a little Holiday cheer!
Join our growing community and keep updated on Omaha family-friendly events and activities and Sign up for our Free Email Newsletter!
Find 100+ Holiday Events in Omaha for many family-friendly fun this Holiday Season!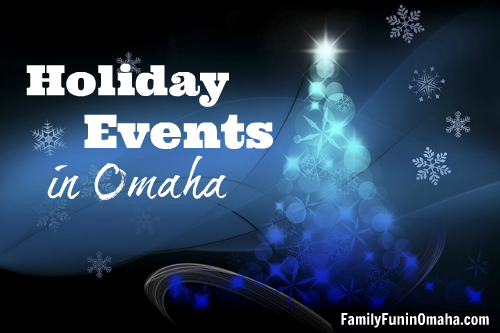 It is always a good idea to verify the information with the business before visiting as details and times may change.
Please note: At some locations, only professional photography will be permitted. 
Ongoing Santa Events
*See Special Santa Events in the next section.
Games, activities, crafts, and more. Santa's Wonderland Grand Opening: Saturday, Nov. 10 (5 – 8 p.m.)
Location: Bass Pro Shops, 2901 Bass Pro Dr, Council Bluffs, Iowa.
FREE Photos and Crafts. A different craft each week and giveaways to the first 100 kids Monday-Thursday beginning at 5 p.m.
Santa's Magic is an interactive show with indoor snowfall and delightful characters like the Snow Queen and, of course, Santa, who arrives by climbing down the chimney. At the end of each show, children will be able to talk one-on-one with Santa and get their picture taken with him (photo packages available for purchase). Multiple shows will be held daily and are included with museum admission.
Location: The Omaha Children's Museum, 500 South 20th Street, Omaha.
Can schedule times. Location: 87th & Pacific.
See website for schedule. Come to the Civic Center Park Clubhouse to visit with Santa, explore his workshop and enjoy treats and other fun holiday activities. The event on December 6 will also feature live reindeer.
Location: 8305 Parkview Blvd, La Vista.
See website for schedule.
Visit Santa in his village located in the Lower Level Younker's Court.
Regency – Nov. 23 – Dec. 24, 2018
Pictures available for purchase.
Children are able to meet Santa however only professional photography will be allowed to be taken of children with Santa.
Visit Santa in his village located in Level 2, near Von Maur.
Special Santa Events
Santa Claus and Star Wars (the Imperial Stormtroopers of the 501st Legion) join forces for a fun-filled family day. Young guests will have the opportunity to visit with Santa and experience Space Day. Space-related booths, pictures with Santa and Star Wars Characters, activities, make-and-take ornament, and holiday music are part of the day. Event is included in the price of admission and pre-registration is not necessary.
Location: Strategic Air Command & Aerospace Museum, 28210 W. Park Hwy., Ashland, NE.
Hy-Vee – 156th & Maple
Dec. 1 (11 a.m. – 1 p.m.): Santa and Covenant Presbyterian Church Carols
Dec. 8 (9 – 11 a.m.): Eggnog with Santa
Dec. 9 (1 – 4 p.m.): Santa and Reindeer
Dec. 15 (9 – 11 a.m.): Books with Santa
Dec. 22 (12 – 2 p.m.): Cookies with Santa
Stop by and take photos with Santa.

Dec. 1, 2018 (10 a.m. – Noon), Maple Bank, 13220 Birch Dr., Omaha, NE.
Dec. 8, 2018 (10 a.m. – Noon), West Center Bank, 2545 S. 180th St., Omaha, NE.
Santa will be visiting the library and community center. Enjoy story time, crafts and lots of activities!
Location: 14850 Laurel Ave., Omaha, NE.
Enjoy a variety of fun events throughout the Holiday season!
Dec. 3, 2018 (9 a.m. – 12 p.m.) – Santa is hosting a special time for small children (birth to preschool) to join him at his workshop!
 Santa is making a special stop to visit all the little girls and boys.
Location: A.V. Sorensen Community Center, 4808 Cass St., Omaha, NE.
Santa and his reindeer visit the museum the first three Tuesday nights in December leading up to Christmas. Families can also take part in creating holiday crafts at the David M. Mangelsen's Craft Corner and enjoy live performances by local choirs and ensembles. NEW THIS YEAR – Grab the family and climb into our antique sled for a memorable photo opportunity! Included with regular admission.
Location: The Durham Museum, 801 S. 10th St., Omaha, NE.
Special storytime in Santa's Workshop.
Santa will read a holiday story to kids on Tuesdays in December at 10:30 a.m. at various Village Pointe stores. Treats and/or giveaways will be provided for children attending.

Dec. 6, 2018: Premier Bank
Dec. 13, 2018: Gap
Dec. 20, 2018: Charming Charlie
The December Family Date Night is a tasty night of cookie decorating and special evening showtimes of Santa's Magic. All activities are included with museum admission (while supplies last).
Location: 500 S. 20th St., Omaha, NE.
This is a free, family-friendly event featuring live reindeer inside a heated tent. Santa and his elves will be location for photo opportunities.
Location: Bel Air Plaza Parking Lot, 12100 West Center Road, Omaha.
Enjoy a lively telling of the poem "A Visit from St. Nicholas," sing holiday songs, and visit with Santa. Plus, enjoy snacks and make ornaments and gifts.
Location: Florence Community Center, 2920 Bondesson St., Omaha, NE.
Lights of Aksarben – Friday, Dec. 14, 2018 (6 – 8 p.m.), FREE
Dec. 14 – Santa and Mrs. Claus
Location: Aksarben Village, 67th & Center St., Omaha, NE.
Black Business Expo with over 40 locally owned businesses. Entry is free and pics with Santa are $2. Santa will be giving away gifts to the first 100 children.
Location: Hope Skate, 2200 N 24th St. Omaha.
Santa at Go! Kids' Gym – Dec. 22, 2018 (5 – 7 p.m.), Tickets available for purchase
Come visit Santa and have some cookies and a special treat while you play.
Cost is $10 per child for non annual membership holders and $5 per child for annual membership holders. 2 and under free with paid sibling.
Location: 4223 S. 120th St., Omaha, NE.
Find More Helpful Resources: