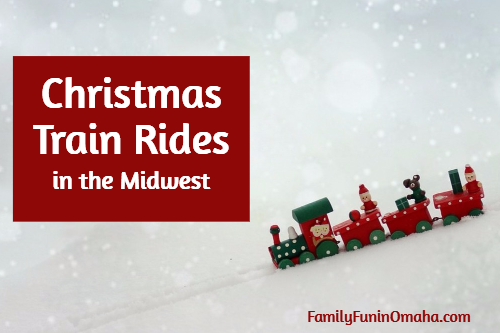 All aboard! Ride the Polar Express or take your family on a special Christmas Train ride this Holiday Season! Keep in mind that tickets for many of these events sell out early.
Keep updated on the latest Omaha fun and Sign up for our Free Email Newsletter!
As details may change, it is always a good idea to verify with the business before visiting.
PLEASE NOTE: Many events require pre-registration, have limited capacity, or offer timed slots. As things continue to change during this time, it is highly recommended to verify details, closures, cancelations, hours of operation, and any requirements or procedures for guests before visiting. Thank You!
Iowa
225 10th St., Boone, IA (North of Des Moines)
Select Dates: Friday – Sunday, Nov. 25 – Dec. 18, 2022
Tickets: Tickets go on sale on November 1, 2022.
Midwest Central Railroad, Mount Pleasant, IA (4.5 hours East of Omaha)
Select Dates: Dec. 3-4, 10-11, 17-18, 2022
Tickets: All tickets go on sale on November 1, 2022.
800 W. Huron St., Missouri Valley, IA
Select Date: Saturday, Dec. 3, 2022
Kansas
Abilene, KS (3.5 hours Southwest of Omaha)
Select Date: Saturday, Dec. 3, 2022
Tickets: Reservations and tickets through Abilene Parks and Recreation, (785) 263-7266.
Missouri
Branson Scenic Railway, Branson, MO
Select Dates: Select dates, Nov. 4 – Dec. 23, 2022
Tickets: Starting at $37 per child age 2-12 and $47 per guest age 13+; $2 for toddler in lap. Book online or call the box office at (417) 334-6110.
St. Louis Union Station
Select Dates: Nov. 18 – Dec. 30, 2022 (No rides on Thanksgiving or Christmas)
Tickets: Starting at TBA per guest + package options available
225 East Jackson Blvd., Intersection of Highway 61 & 25, Jackson, MO (Located 100 miles south of St. Louis, MO)
Select Dates Select dates, Nov. 25 – Dec. 18, 2022
Tickets: Tickets MUST be purchased in advance by calling the Ticket Office at (573) 243-1688 and usually sell out over the summer.
Filled with fun, enjoy the antics on the Iron Mountain as our Christmas special guests attempt to land Santa on this moving train. If successful, you will get to visit with him, too! Games, songs, fun and Christmas magic fill this train to the brim.
South Dakota
1880 Train, Black Hills Central Railroad, 222 Railroad Ave., Hill City, SD (located in Black Hills National Forest, 8 hours from Omaha)
Select Dates Nov. 25-26 and Dec. 17-18 & 22-24, 2022
Tickets: $15/$17 per child (ages 3-12), $29/$34 per guest age 13+, free for lap-sitting children ages 2 and younger
Santa will board the train and ride back to Hill City, taking time to visit with each child on the way. Passengers enjoy hot cocoa, a sugar cookie, and a special story on the way to the North Pole. Santa will hand out a small sleigh bell to each child on the trip.