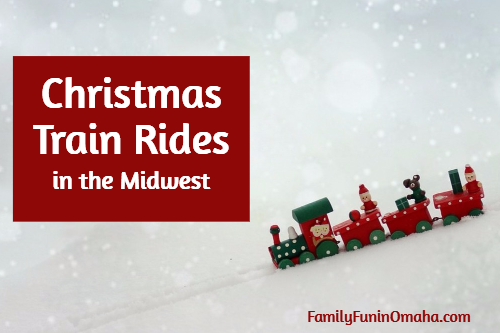 All aboard! Ride the Polar Express or take your family on a special Christmas Train ride this Holiday Season! Keep in mind that tickets for many of these events sell out early.
Keep updated on the latest Omaha fun and Sign up for our Free Email Newsletter!
As details may change, it is always a good idea to verify with the business before visiting.
PLEASE NOTE: Many events require pre-registration, have limited capacity, or offer timed slots. As things continue to change during this time, it is highly recommended to verify details, closures, cancelations, hours of operation, and any requirements or procedures for guests before visiting. Thank You!
Iowa
225 10th St., Boone, IA (North of Des Moines)
Select Dates: Nov. 27 – 29 and Dec. 4-6, 11 – 13, & 18 – 20, 2020
Tickets: Basic coach class: $20 per person. First class coach: $45 per person
Tickets for this event go on sale Nov. 2nd. Purchase by clicking here, or by calling (515) 432-4249.
Bring the family, and enjoy a ride from the Boone & Scenic Valley Railroad's depot to the North Pole (and return). En route, you will hear the story of Santa's Scenic Valley Ride, and take part in other fun, family activities. Experience what has become a tradition for families from across Iowa, and beyond.
Midwest Central Railroad, Mount Pleasant, IA (4.5 hours East of Omaha)
Select Dates: CANCELED FOR 2020
Tickets: Reservations are required for this event. Tickets are $25 per person (plus a small service charge from the ticket service). Everyone over the age of 18 months must have a ticket.
800 W Huron St, Missouri Valley, Iowa
Select Date: CANCELED FOR 2020
Tickets: Cookies, Hot Cider, Grinch Punch, Santa, Vendors, Candy and Goody Makers. Please bring a Non-perishable item for your Entrance fee. Small-scale Train Rides, perfect for little ones (possible additional fee).
Kansas
Abilene, KS (3.5 hours Southwest of Omaha)
The Santa train will be TBA. Call the Abilene Parks & Rec office for reservations, (785) 263-7266.
Midland Railway, 1515 High St., Baldwin City, KS (West of Kansas City)
Select Dates: CANCELED FOR 2020
Tickets: $30 – $70.
THE POLAR EXPRESS™ Train Ride is a re-creation of the classic children's story onboard a real train. Passengers are served hot chocolate and a treat by dancing chefs, enjoy a reading of the book by Chris Van Allsburg and receive the first gift of Christmas (a silver sleigh bell) after Santa boards the train to greet families. Attendants lead passengers in caroling and fun holiday activities on the return trip to Baldwin Station.
Missouri
Kansas City's Union Station
Dates: Nov. 3, 2020 – Jan. 1, 2021
Tickets: Your ticket to the Holiday Reflections Walk-Thru Village also includes access to the Mini Holiday Express ride-on train entry into our Model Train Gallery.
Immerse yourself in the holiday spirit with brilliant sights and sounds. Union Station's festive and magical Holiday Reflections walk-thru village features eight key photo backdrops for your selfie moment or family-picture, sky-reaching lights, trees, forest friends, and giant floating mirrored ornaments.
Branson Scenic Railway, Branson, MO
Select Dates: Selected dates Nov. 6 – Dec. 23, 2020.
Tickets: $46-$72
St. Louis Union Station
Select Dates: Nov. 20 – Dec. 30, 2020
Tickets: $30 per person + package options available
The popular family event is recreated as Believe! THE POLAR EXPRESS™ Experience in 2020 with some changes to allow for appropriate social distancing and safety. This year, the beautifully decorated trains remain stationary under the Union Station train shed for a walk-thru event, and guests will interact with the Polar Express characters and Santa Claus and his elves in whimsically decorated tents.
225 East Jackson Blvd., Intersection of Highway 61 & 25, Jackson, MO (Located 100 miles south of St. Louis, MO)
Tickets: Tickets MUST be purchased in advance by calling the Ticket Office at (573) 243-1688 and usually sell out by August.
Filled with fun, enjoy the antics on the Iron Mountain as our Christmas special guests attempt to land Santa on this moving train. If successful, you will get to visit with him, too! Games, songs, fun, and Christmas magic fill this train to the brim.
South Dakota
1880 Train, Black Hills Central Railroad, 222 Railroad Ave., Hill City, SD (located in Black Hills National Forest, 8 hours from Omaha)
Select Dates Nov. 27 – 28 and Dec. 5-6, 12-13, 19-20, 24 & 26-27, 2020
Tickets: $18 per child, $39 per adult, Free for lap-sitting children ages 2 and younger
Experience the magic as you take a one hour, round-trip journey from Hill City to the North Pole, where Santa will board the train and ride back to Hill City, taking time to visit with each child on the way. Passengers enjoy hot cocoa, a sugar cookie, and a special story on the way to the North Pole. Santa will hand out a small sleigh bell to each child on the trip.