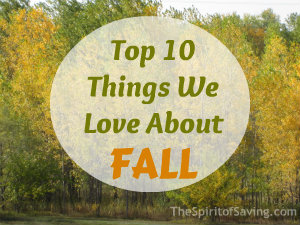 Fall is such a beautiful season and it is a favorite for many of us!  It fills our senses with so much to take in and enjoy.  I truly loved reading all of your comments for the earlier Vala's giveaway that I read them twice!  You were asked, "In addition to going to Pumpkin Patches, what do you love about Fall?"  I thought it would be fun to put it all together and call it:
Our Top Ten Things We Love About Fall
1. Sights
Changing colors of leaves, beauty of nature, seeing the leaves fall, beautiful fall colors
2. Sounds
Leaves crunching under your feet, crackle of campfire
3. Touch
Cool, crisp weather, cozy hooded sweatshirts, snuggly sweaters, fun jackets, favorite jeans
4. Smell
Campfires, kettlecorn cooking, foods baking, roasted pumpkin seeds
5. Taste
Hot chocolate, chili and soup, baking, kettlecorn, candy corn (and peanuts!), hotdogs and marshmallows cooked over bonfires, s'mores, apple picking and eating/making apple pies, apple crisp, caramel apples, and apple cider
6. Football
Football, especially Husker football!
7. Everything pumpkin
Decorating and carving pumpkins, roasting pumpkin seeds, pumpkin pie, pumpkin pie flavored Blizzards and Shakes, pumpkin spiced coffees and creamers, pumpkin everything!
8. Pumpkin Patches
Going to Pumpkin Patches and Fall Festivals and enjoying all they have to offer – hayrack rides, picking pumpkins and apples, duck races, corn pits, being outside, fun activities, yummy food
9. Halloween
Halloween is one of those holidays that we can celebrate all month long!  We love decorating, haunted houses, and finding the perfect costume
10. Family
Enjoying Fall and everything it has to offer with your family was by far the most mentioned!  We enjoy snuggling up with kids for a family movie night, all the things availiable for families to do together, hunting, fishing, yardwork, celebrating traditions and creating new ones, just hanging out with the family, enjoying holiday feeling, indoor activities, family dinners, craft fairs, and building leaf piles and jumping in them!  Fall brings a feeling and sense of family.
What do you love most about Fall?  Anything more you would add?