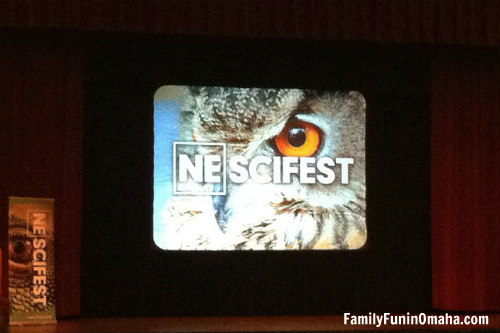 The Nebraska Science Festival is a multi-day celebration designed to make science fun for kids and adults alike. Enjoy a wide variety of events for all ages, including many with FREE or discounted admission!
NOTE: Although the Festival is canceled, they plan to hold a few virtual events in April and extend their social media scavenger hunt. 
Join our growing community and keep updated on Omaha family-friendly events and activities and Sign up for our Free Email Newsletter!
The 2020 Science Festival will be held April 3 – 26, 2020.  CANCELED
It is always a good idea to verify the event information as details may change.
Highlights of the 2020 NE Scifest Include:
Exciting activities include: (Some require advanced registration as space is limited.)

Science of Sound Family Storytime
NE SciFest visits Music and Movement
Read & Play: NESciFest
Exploring Science in Storytime
Teen Talk About: Science
NE SciFest Visits Family Storytime
Exploring Science in Storytime
Books and Bites for Teens- NE Sci-Fest
City Nature Challenge Family Storytime
1. Special Programs at Do Space (72nd & Dodge St., Omaha, NE) – Membership and advance registration required. FREE
Activities encompass a variety of science disciplines including physics, chemistry and biology. Learn the scientific method and employ it during many great experiments.
Location: Metropolitan Community College South Campus, Mahoney Building, 2909 Edward Babe Gomez Ave., Omaha, NE.
Students can move through open interactive stations in Roskens Hall.
Location: 6001 Dodge St., Omaha, NE.
Learn how to improve your lifestyles and ways to live longer, better, and happier. Health Seminars will take place both days.
Register and get your ticket free! Admission: $5 at the door without a ticket, children age 12 and under are FREE.
Location: Baxter Arena, 2425 S. 67th St., Omaha, NE.
5. Earth Day Omaha – Apr. 18 (11 a.m. – 6 p.m.), Elmwood Park
The free event features exhibit booths, children's activities, demonstrations and short speaker sessions.
Location: Elmwood Park, 802 S. 60th St., Omaha, NE.
Fun activities include volcano eruptions, make science tongs, explore parts of a tree and decorate a tree slice, use science tools to investigate different kinds of rock and minerals, decorate science kits and notebooks. Plus numerous science shows throughout the day.
Location: Omaha Children's Museum, 500 S. 20th St., Omaha, NE.
Students will lead visitors in a variety of hands-on activities and demonstrations. Activities include robotics, engineering, 3D printing, laser cutting, circuits, art in science, flight, rockets and a variety of other activities. Visitors will also be able to view and hear about science projects and inventions students are working on.
Location: McMillian Magnet Middle School, 3802 Redick Ave., Omaha, NE.
Identify and count plants and animals that live among us. The challenge is a BioBlitz that engages residents and visitors to find and document plants, animals, and other organisms living in urban areas. Visit OmahaZoo.com/CityNatureChallenge for more information.
Participate in fun and engaging hands-on learning opportunities. There will be a wide variety of booths to promote science and its impact on our everyday lives. Plus, the Omaha Children's Museum will perform their "Mad Scientist Show" at 10:30 a.m.
Location: The Durham Museum, 801 S. 10th St., Omaha, NE.
10. SAC Aerospace Museum: SciPop Interactive – Apr. 25 (10 a.m. – 2 p.m.), $12/adult, $6/child, and kids 3 and under are FREE
Discover a day of mystery and illusion with demonstrations, hands-on activities and interactive fun on the science behind Harry Potter and comic book heroes. Guests are encouraged to come in costume of their favorite character.
Cost: Admission to the Museum is $12 for adults, $6 for kids, and kids 3 and under are free.
Location: SAC Museum, 28210 W. Park Hwy., Ashland, NE.
Find many more fun activities during the Nebraska Science Festival here!
Find more April Fun: