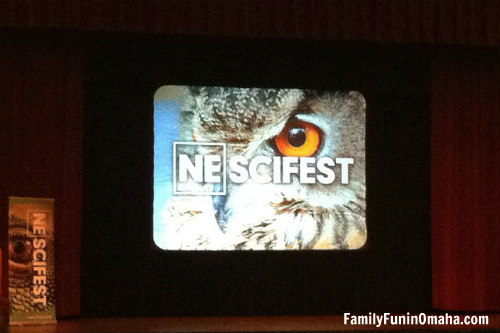 The Nebraska Science Festival is a multi-day celebration designed to make science fun for kids and adults alike. Enjoy a wide variety of events for all ages, including many with FREE or discounted admission!
Join our growing community and keep updated on Omaha family-friendly events and activities and Sign up for our Free Email Newsletter!
The Science Festival will be held April 1 – 30, 2022. Check out the schedule of events for talks and workshops offered throughout the month.
It is always a good idea to verify the event information as details may change.
Highlights of the 2022 NE Scifest Include:
NE SciFest is challenging everyone in Nebraska to show their love of science, art, writing, and trivia.
Walk to the Moon Challenge
NE SciFest Art Contest
NE SciFest Essay Contest
NE SciFest Social Media Trivia
NE SciFest Scavenger Hunt
Exciting activities include: (Some require advanced registration as space is limited.)

Fairytale STEM with NE SciFest [REGISTER]
Seuss-sational Science
Little Saplings, a monthly program designed for children ages 2 – 5 and their adult caregiver, will bring nature themes to life for your child through story time, sensory activities, crafts, and outdoor exploration.
The cost to participate is $4 per child and $5 per adult per program and includes admission to the Education Center after the program.
Location: Schramm Education Center, 21502 West Highway 31, Gretna, NE.
From Star Wars to Frozen to Titanic to The Martian — join astrophysics icon Neil deGrasse Tyson for an entertaining and enlightening review of all the science that our favorite movies got wrong and what they got right.
To receive 25% off tickets (in price level 1-3 only), use code: SCIENCE22 at check out.
Location: Holland Performing Arts Center, 1200 Douglas St., Omaha, NE.
The Strategic Air Command & Aerospace Museum's Spring Fling is now the "Mad Hatter's Tea Party." Visit the museum for a fun-filled, whimsical day featuring tea from around the world. Plus, kids of all ages can engage in educational activities like spin paint and more, and a scavenger hunt throughout the museum.
Location: Strategic Air Command & Aerospace Museum, 28210 W Park Hwy, Ashland, NE.
Special S.T.E.A.M. cart presentations, make-your-own slime at the slime bar, DIY science kits, learn to make paper lizard and how to design a rocket ship, meet Ms. Frizzle herself, and more!
Location: 500 S. 20th St., Omaha, NE.
7. Earth Day Omaha – April 23 (11 a.m. – 6 p.m.), FREE
Environment Expo, green demos, live music, family fun, and more!
Location: Elmwood Park, 802 S. 60th St., Omaha, NE.
Get your questions ready for the "Ask a Meteorologist" virtual event with KETV NewsWatch 7's Caitlin Harvey. Caitlin will join in live on their festival Facebook page on April 28 at 10am to answer all your science and weather questions. You can send in questions before the event, or ask them live in the chat the day of the event.
9. NE SciFest Public Expo – April 30 (9:00 a.m. – 12:00 p.m.), FREE (A ticket with a timed entrance is required; space is limited)
Fun and engaging hands-on learning opportunities for everyone.
There is no fee for admission, but advanced registration is required (as space is limited), and guests will be admitted on a timed-ticket basis.
RESERVE TICKETS HERE: www.DurhamMuseum.org/scifest
Location: The Durham Museum, 801 S. 10th St., Omaha, NE.
eCreamery staff will conduct an informative presentation on the "Science of Ice Cream and Dry Ice." Students will be given a small tour of the facility, a lesson on how ice cream is made, a brief history of ice cream, and the differences in density and composition between gelato, sorbet and ice cream. During the dry ice presentation, discover the chemistry of dry ice and explain density and dissipation.
For children ages 12 and younger. RSVP to [email protected]
Location: eCreamery Ice Cream & Gelato, 5001 Underwood Ave., Omaha, NE.
Find many more fun activities during the Nebraska Science Festival here!
Find more April Fun: