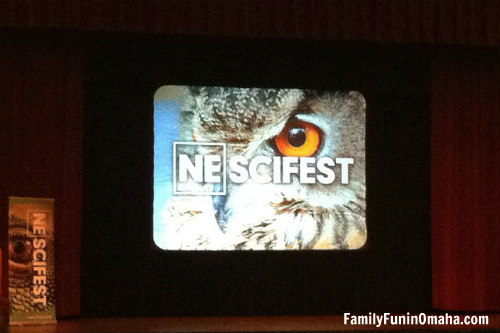 The Nebraska Science Festival is a multi-day celebration designed to make science fun for kids and adults alike. Enjoy a wide variety of events for all ages, including many with FREE admission!
Keep updated on the latest Omaha fun and Sign up for our Free Email Newsletter!
The 2017 Science Festival will be held April 20 – 29, 2017.It is always a good idea to verify the event information as details may change.
Highlights Include:
Exciting activities include SCI-kids, Teen Activities, special storytimes, Robots and Slime, and more! Some require advanced registration as space is limited.
Simply take a picture of the item in the clue and post it to Facebook (comments section), Instagram or Twitter with the hashtag #nescifest. Each day, one winner will be chosen at random for a SciFest T-shirt.
Participate in fun and engaging hands-on learning opportunities.
(NE SciFest ticket required. Download here.) 
4. STEM University at UNO – April 22, FREE (Some events require registration.)
Hands-On Workshops for Families with experts in STEM education. Registration for workshops opens April 1.
Expo Event in UNO's Roskens Hall – (10 a.m. – 1 p.m.). No registration is required.
Computer Science Open House at Roskens Hall Atrium (9:30 – 11:30 a.m.), which requires no registration.
Interactive science stations and presentations. Location: City of Valley Library, 232 North Spruce Street, Valley, NE
Stop by MCC's South Omaha Campus, Mahoney building for five rooms (400-405) of hands-on fun. Location: MCC's South Omaha Campus, 2902 Edward Babe Gomez Ave, Omaha
7. Special Programs at Do Space – April 22, FREE
8. Omaha Children's Museum – April 25 (10 a.m. – 4 p.m.), Regular Admission
Enjoy hands-on science experiments, science shows and dome shows all day long during our Lil' Scientist Day. Included with regular admission.
9. FREE Movie Screenings – April 25-27, FREE
10. Omaha World-Herald – April 25, 26 (1 p.m.), FREE, RSVP Required
See how the newspaper is printed each day. The press tour (for groups of 25) runs 45 to 60 minutes, depending on questions. Recommended for kids 8 and over and any adults. Meet at the John Gottschalk Freedom Center, 14th Street and Capitol Avenue, Omaha.
RSVP REQUIRED: RSVP to nescifest@gmail.com. Space is limited.
City Sprouts will host activities, games and snacks for all ages. Come dressed as a tree for a special prize. Location: City Sprouts Community Garden, 4002 Seward Street, Omaha
Featuring the science behind Harry Potter, Star Trek, & Comic Book Icons. Guests are encouraged to come in costume in support of your favorite character.
The event is free for guests age 12 and under and general admission applies to adults. General admission is $12 for adults and $11 for military and seniors.
Find many more fun activities during the Nebraska Science Festival here!
Find more Helpful Resources: