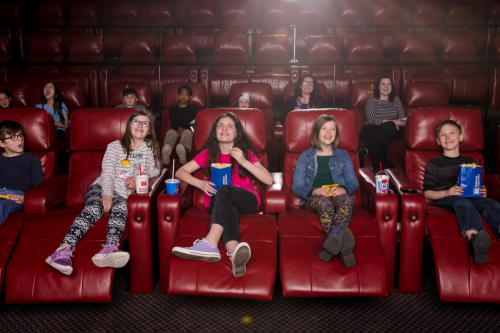 Love going to the movies with your family?
Special thanks to Marcus Theatres for partnering with us to help share all of the FUN events they have coming up!
Join our growing community and keep updated on Omaha family-friendly events and activities and Sign up for our Free Email Newsletter!
We LOVE watching movies with our kids, and especially enjoy going to Marcus Theatres!
I love the ease of using the app to purchase our tickets and select our seats. My kids love the comfortable reclining seats, and the movable armrest so we can snuggle like on our couch at home!
Our favorites are the $5 Tuesdays with a FREE complimentary-size popcorn for Magical Movie Rewards Members, and other specials they have throughout the year!
Enchanted Tales at Omaha Marcus Theatres

$6 Disney Classics Return to Marcus Theatres January 24-February 17
Looking for fun and affordable ways to cure winter boredom? Our friends at the Marcus Majestic of Omaha, Marcus Twin Creek (Bellevue) and Marcus Village Pointe (Omaha) Cinemas can help.
That's because they're bringing back the Enchanted Tales Film Series January 24-February 17!
This season's line-up features a collection of classic Disney films including "Aladdin," "The Lion King," "Sleeping Beauty" and "Pocahontas" on Fridays, Saturdays and Sundays!
Enchanted Tales is the perfect way to introduce your family to the magic of beloved Disney films the way they were originally meant to be seen — on the big screen!
Better yet, admission to any film in the series is just $6 per person — get your tickets online or in theatre!
(Pro tip: Click here to download a coloring sheet, have your kids color in their favorite character, then bring it to Marcus Theatres during your Enchanted Tales show to receive a FREE complimentary-size popcorn!)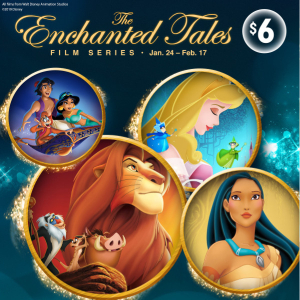 $6 Movie Line-up
All movies play at 10 a.m., 12:15 p.m., 2:30 p.m. and 4:45 p.m. each day.
(Pro tip: The series features one "bonus" day on Monday, February 17 — President's Day! There's no better way to spend a day away from school than the movies.)
Why These Classic Disney Movies are Even Better on the Big Screen
1.Seeing where it all began with the original animated movies that inspired last year's hit live-action remakes.
2. Sharing the experience watching beloved favorites from "Disney's renaissance" in the theatre — just like you did — with your kids. And have you EVER seen 1959's "Sleeping Beauty" on the big screen?!
3. THAT MUSIC. These films feature three award-winning songs, from "A Whole New World" to "Can You Feel the Love Tonight" to "Colors of the Wind" — and they all sound even better in a movie theatre.
What are you waiting for? Get your tickets, download your coloring sheets and we'll see you at Marcus Majestic of Omaha, Marcus Twin Creek and Marcus Village Pointe Cinemas soon!
Mark Your Calendars: Kids Dream Returns February 21 with $3 Family Films
And stay tuned for more information about the return of recent family favorites like "Abominable" and "The Secret Life of Pets 2" during the Kids Dream Family Series!
The fun kicks off February 21 and runs through April 5 at participating Marcus Theatres.
All films will be just $3 per person (and they'll also be plenty of ways to score free tickets courtesy of American Family Insurance)!
Find More Fun: