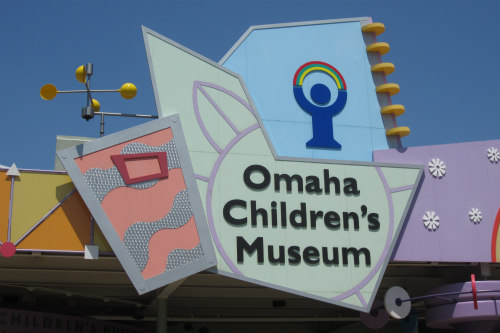 The Omaha Children's Museum has been a family favorite of ours for years, and after countless trips exploring every inch of the museum, we have discovered many hours of fun and helpful tips along the way!
Whether you're a first time visitor or are just looking for something new to experience on your next museum trip, we've got you covered!
Join our growing community and keep updated on Omaha family-friendly events and activities and Sign up for our Free Email Newsletter!

Lockers/Strollers
Coat racks and locker rentals are available inside the main entrance to the left of the front desk. The museum is fully stroller compatible, but for your convenience, stroller parking is available near the Wiggle Room in the Imagination Playground. Use the elevator immediately outside the Imagination Playground for stroller access to the second floor.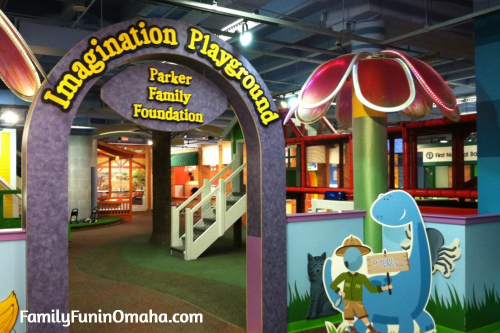 Exhibits
Art Smart Center
Charlie Campbell Science Center
Fantastic Future Me
Imagination Playground
S.T.E.A.M. Cave
Tinker Lab
Walker Tire Service Center
Zooland
Food
Depending on the length of your visit, you may want to consider having a snack or lunch at the museum. A variety of reasonably priced food options are available for purchase upstairs at the Rainbow Cafe. You are also welcome to pack food and enjoy it at the picnic tables outside, in the dining area immediately to the left of the main entrance, or upstairs near the Rainbow Cafe. Both levels have a microwave for guest use as well as high chairs for the littlest eaters.
Extras
Your museum entrance fee gets you access to all of the great exhibits, but you may want to consider budgeting just a bit more fun money for the carousel and train. Both rides are extra which can be purchased at the kiosk on the second floor, the front desk, or the Rainbow Cafe.
Older Children
There is truly something for everyone at the Omaha Children's Museum, but if you are bringing older children, you'll definitely want to stop by the Tinker Lab, Charlie Campbell Science Center, and the S.T.E.A.M. Cave. These areas offer opportunities to explore more challenging concepts and use real tools to build and create.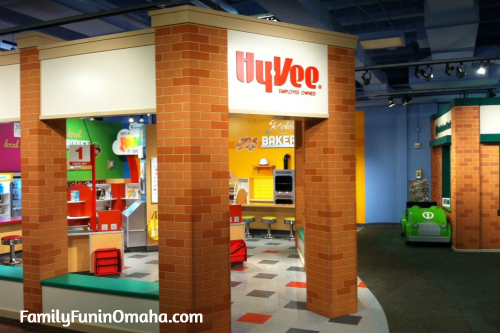 Younger Children
Omaha Children's Museum has great accommodations for their younger guests. All restrooms have changing tables and a private, family restroom is available immediately outside of the Imagination Playground.
The Wiggle Room is designed especially for children three and under. You will find puzzles, blocks, and a variety of pretend play items for your little one to explore in a safe, calm environment. If your child finds themselves overwhelmed and in need of a break, the Family Room is a perfect place to settle down on a couch and read a book.

Babies
Visiting the museum is a breeze with babies! The building is very stroller-friendly and all restroom facilities include changing tables. You'll definitely want to stop in the Wiggle Room which is equipped with soft, cushioned flooring perfect for tummy time or new sitters. Plus the wall of mirrors is especially appealing to little ones!
Breastfeeding mothers who want a quiet, private space to nurse are welcome to use the Nurture Room located within the Family Room.
Special Events
Omaha Children's Museum has many special events scheduled throughout the year such as themed nights and seasonal celebrations. Take a look at the museum calendar to plan your museum trip with some extra family fun!
Helpful Tips when Visiting the Omaha Children's Museum

Outdoor Attractions
The fun starts before you ever step foot into the museum! You'll definitely want to leave some time to visit the Grass Patch, OCM's outdoor playground. It features slides, climbing features, and plenty of green space to run around! You can also grab a book from the little free library to read on a shady bench.
Be sure to stop at the model fire truck right outside the museum's main entrance. Kids love climbing all over and giving it a "test drive." It's also one of my favorite places to get photo opp!
If you plan to visit the Splish Splash Garden, you might want to throw a towel and a change of clothes in the car. The mini splash pad adjacent to the parking lot is the perfect way to end a summer day at the museum!
Messy Areas
We all know that kids are 100% washable, but if you're looking to avoid potential messes there are just a couple of areas to be aware of. There is a face paint station and paint window in the Art Smart Center; however, in my experience the face paint washes off easily and my kids' clothes have always come clean.
The water table in the Imagination Playground is also an area to watch for. If you're concerned about clothing getting wet, the museum has waterproof aprons available for kids to use!
Join for Member Hours Perk
Member hours are my favorite part of my Omaha Children's Museum membership. That extra hour of play at the beginning of each day is a game changer! The museum is much quieter and it's easier for my little ones to navigate the exhibits. If membership isn't in the cards for you, I recommend coming after lunch when many museum guests are clearing out to make it home for naps.
Daily Program Schedule
Upon arrival make sure you take a look at the video boards displayed throughout the museum. That's where you'll find special programming for the day such as Science or Bubble Shows, Storytime, and Character meet and greets. I usually snap a photo with my phone so I can easily reference the schedule throughout our visit.
There's always something new to explore at Omaha Children's Museum. I hope this guide helps you make the most out of each and every visit! Enjoy!
Location: 500 South 20th Street Omaha, NE 68102

Parking: Free parking is available in the lot south of the museum. While summer hours are in effect from Memorial Day to Labor Day, overflow parking is available across the street at Liberty Elementary School. There is also metered parking available on the surrounding streets.

Find out more about Admission Cost and Hours, Special Events, and Special Exhibits here!
Find More Fun Here: