This summer, we enjoyed one of our first family vacations.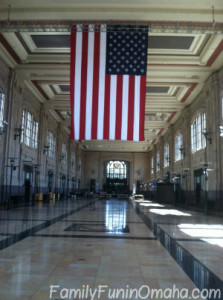 Kansas City was a perfect destination, not too long of a road trip for the little people, but filled with enough fun and adventure that makes us wanting to return again soon.
One of our main stops was Union Station, Kansas City's fully restored landmark. This beautiful building now houses restaurants, shops, and many fun attractions.
Science City
Science City was an amazing adventure for our entire family.  It is FULL of hands-on science activities and exhibits, engaging kids and adults of all ages for hours. It is spacious enough where we were able to interact with activities on our own and did not feel crowded, even though it was a busy Friday with a summer camp going on.
Our kids loved the Kinderlab, perfectly suited for their little hands and bodies. We watched snakes being fed in The Nature Center, dug in the Dinosaur Dig Site, crawled through the underground pipes, played the piano with our feet, simulated flying through the air in a helicopter, played in a treehouse, and watched other visitors try the Sky Bike, suspended on a highwire 30 feet above the ground. Mr. E Hotel challenged us with more than 21 different illusions.
Plus, with our Omaha Children's Museum, we received Free Admission as part of their Reciprocal Membership Program!
Model Railroad Experience
No visit to Union Station is complete without a visit to the Model Railroad Experience. See 8,000 square feet of toy trains including tiny N-scale model trains to the big G-scale trains. The Model Railroad Experience is FREE with any Union Station ticket!
Real Pirates
Real Pirates, a traveling exhibition from National Geographic, tells the story of The Whydah, and her conversion from slave ship to one of the most successful pirate ships in the early 1700s. The Whydah is the first fully authenticated pirate ship discovered in U.S. waters.
Upon entering, visitors watch a brief movie describing the background story behind the Real Pirates. This leads to a unique introduction to the exhibit, where you feel as if you are part of the story, learning about the pirates who were on the ship, how they lived, their backgrounds, and how they interacted with one another on the ship. 'Real' pirates walk around sharing their own tales and answering questions.
In this interactive exhibit, visitors will see a gallery of artifacts including real pirate coins, hoist the Jolly Roger, learn to tie nautical knots, walk through a ship replica, and learn the science behind restoring these artifacts.
I would personally recommend this exhibit for adults and older children who can better understand the history behind The Whydah. Visitors also have the option of purchasing a wand which might be helpful in following the exhibit.
Visiting Real Pirates:
June 22nd through January 5th, Hours
Tickets range from $14.50-$18.95, with special discounts for members
Disclosure: Many thanks to Union Station who provided tickets for my family to attend Real Pirates. All opinions are my own. See disclosure and privacy policy here.