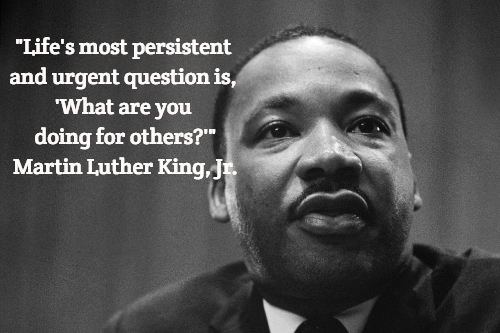 Celebrate and enjoy Martin Luther King, Jr. Day with these family-friendly activities and volunteer opportunities in Omaha!
Join our growing community and keep updated on Omaha family-friendly events and activities and Sign up for our Free Email Newsletter!
Things to Do in Omaha on Martin Luther King Jr. Day
The Durham Museum is proud to offer free admission to the community to celebrate the Martin Luther King Jr. Day. In addition to their exhibitions, they will have special activities for families to commemorate this day.
Location: 801 S. 10th St., Omaha, NE.
Free skating for for Omaha youth!
Location: Motto McLean Ice Arena, 5015 S. 45th St., Omaha, NE.
Omaha Children's Museum is open for the Martin Luther King, Jr. Day holiday with activities held throughout the day. Activities are included with museum admission.
Location: 500 S. 20th St., Omaha, NE.
Keynote presentation by Dell Gines, senior community development advisor with the Federal Reserve Bank of Kansas City's Omaha branch.
The event is free and open to the public.
Location: University of Nebraska at Omaha, Clarkson Tower. (Parking for off-campus visitors is available in Lot 63, located at 40th and Marcy streets from 11 a.m. to 2 p.m. A shuttle will run between Clarkson Tower and Lot 63 from 11 a.m. to noon and again from 1 to 2 p.m.)
Location: Learning Express of Omaha, 120 Regency Pkwy, Omaha.
Members of the Omaha Public Library can check out a pass to one of the following:
(PLEASE NOTE: Be sure to check if the following attractions are open on the date you wish to visit. Subject to availability. Please call ahead to the branch to confirm availability).
Fontenelle Forest – also members of Bellevue Public Library, and Council Bluffs Public Library
Volunteer Opportunities in Omaha on Martin Luther King Jr. Day
Sign up to volunteer at the Timberlake Outreach Center, 2107 E. Locust St., Omaha, NE. Open Door Mission is looking for volunteers to help sort, organize, and shelve donations.
Generally at the Open Door Mission, school-aged children are welcome to volunteer at the Timberlake Outreach Center, as long as they are accompanied by an adult.
In honor of the national MLK Day, join the UNO Office of Civic & Social Responsibility for one of their Signature Service Days. Service projects will help the community at large, and those who participate can choose from a variety of service projects during check-in. Free breakfast and lunch will be available to all volunteers.
COMMUNITY MEMBERS with K-12 children – please print this form and bring a completed copy to the service day.
Choose from a variety of agencies where families can volunteer their time on this day to serve others. (It is always a good idea to contact the agency before planning to volunteer to verify age requirements, complete the application process (if needed), or schedule a time in advance.)
Find More Fun:
(It is always a good idea to verify the schedules and open dates/times of the location before visiting.)