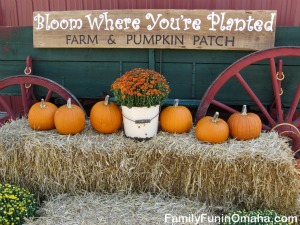 Today, we welcome Sarah H. as a Guest Contributor to Family Fun in Omaha!
Our family had a wonderful day at Bloom Where You're Planted Pumpkin Patch in Avoca, NE. We visited the family owned & operated Pumpkin patch on a gorgeous September day. It was about a 45 minute drive to Avoca, but the autumn scenery along the way made the drive quite pleasant.
We began our visit on the playground – there are several fun play areas that are perfect for younger visitors. There were also several rows of hay bales for climbing, which both my 3 year old and 13 year old enjoyed. One even had a slide and we all took turns going down!
Another definite highlight of the farm was the family sized tire swing. We had a great time being able to swing together – my son's favorite was spinning, while my daughter enjoyed bumping into the support posts. For those not into the rough & tumble action of the tire swing, there is a regular swingset, as well as a porch style swing.
The hayrack ride – always a popular pumpkin patch activity – runs twice an hour. We took a short but lovely drive out to the field, where most of the pumpkins were already off the vines (a huge plus for me, since those pumpkin vines are always prickly!!) The kids each picked out a pumpkin – one orange, one white, and we headed back to the main part of the farm.
I don't think it's possible to visit a pumpkin patch without sampling some fall snacks and Bloom Where You're Planted did not disappoint! We headed over to the Schoolhouse Café and tried what their website refers to as their "famous homemade frosted sugar cookie". Believe me – the cookies lived up to the hype!
After refueling, we wandered around in the Pumpkin Barn & Gift Shop. They have a fun and eclectic collection of items, as well as popcorn and additional snacks in the gift shop. In the Pumpkin Barn, we found a wide variety of pumpkins and gourds on display. My favorite part was their use of real Radio Flyer Wagons to transport your pumpkins while on site – so cute!
While at the farm, we also enjoyed the Rubber Duck Races, Word Scavenger Hunt (we didn't "officially" participate in this activity, but found it fun to spot the words placed around the farm) and the Gourd Garden. My three year old son especially liked all the open space that he had to run around – and the multiple play areas. My 13 year old daughter enjoyed petting the horses and was pleased to find the perfect white pumpkin that she plans to paint.
Admission is $5.00/person (including tax) and children 2 and under are free. Bloom Where You're Planted is open on Fridays from 1 – 6pm and Saturdays & Sundays from 10am – 6pm until October 31, 2013. We had a great time visiting and think your family will, too!
Disclosure: Many thanks to Sarah for being a guest contributor, and to Bloom Where You're Planted Farm who provided the passes to facilitate the review. They are a Featured Omaha Area Pumpkin Patch.