The Iowa State Fair is considered one of the best in the country with over 1 million visitors last year. Experience the amazing atmostphere, delicious food, fantastic entertainment, family fun, and more for a several days each August!
Join our growing community and keep updated on Omaha family-friendly events and activities and Sign up for our Free Email Newsletter!
Best Things to Do at the Iowa State Fair
1. See the Baby Animals at the Animal Learning Center
Kids and adults alike will love seeing the baby animals throughout the Animal Learning Center! Staff are located throughout the area ready to answer questions as you watch the adorable animals. We also saw a baby ostrich!
These baby sheep are only 40 minutes old!
These piglets are less than 1 day old!
2. Little Hands on the Farm
At Little Hands on the Farm, younger children can become farmers at this free, hands-on exhibit. Children will love the interactive activities as they follow a path that includes a garden, grain bin, and apple orchard.
3. Butter Cow
The famous Butter Cow is one of the not-to-miss traditions of the fair. Each year, different characters surround the cow in the Agriculture Building.
4. Animals
Be sure to stop in the Cattle Barn, Horse Barn, Sheep Barn, and Pig Barn to see the livestock, with agricultural education stations throughout, and Livestock Shows daily. One of the awards of Biggest Sheep is pictured here!
5. Varied Industries Building
A nice stop for a place to cool off is a walk through the Varied Industries Building. Visit with a variety of vendors who are excited to share their free goodies with you.
6. Entertainment
Enjoy Free entertainment throughout the Fair, including concerts, shows, and the popular Bill Riley Talent Search. The Grandstand offers ticketed concerts with well-known bands and artists.
7. The Food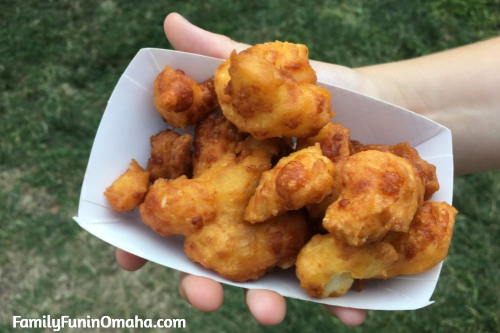 Choose from many amazing foods all lined up around the fair, including delicious Cheese Curds, fried everything, many foods on a stick, and desserts galore!
8. The Atmosphere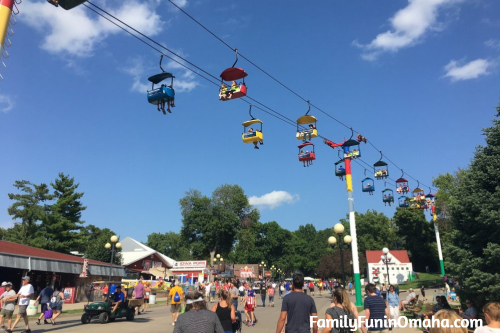 The Sky Glider is a relaxing ride and gives you a fantastic overview of the Fairgrounds.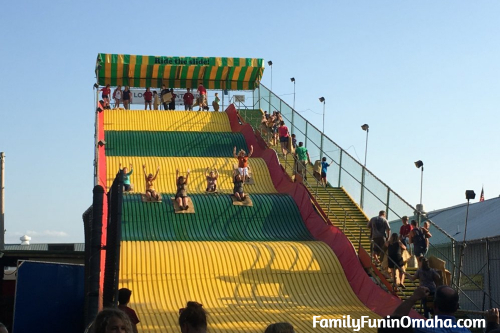 The Big Slide was a Big Hit with many families!
Choose from 3 different areas of amusement park rides from attractions for the little ones to thrilling rides.
It was amazing how many people were there on the first day. We met a family from Virginia who had it on their Bucket List to visit the Iowa State Fair, and it did not disappoint. For many families, this has become an annual tradition!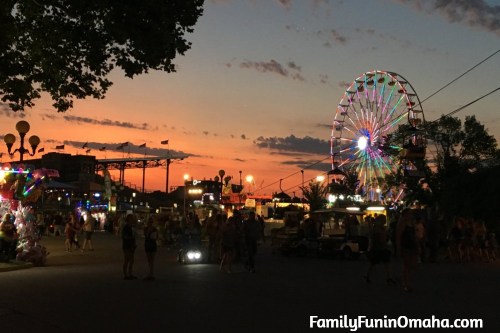 The Iowa State Fair was so much fun and offered a variety of attractions, food, entertainment, animals, and more for a full day. It is clear why it has been named one of the best in the country!
Find out more about daily schedules, attractions, new foods each year, fairground map, and more at the Iowa State Fair website.
Find More Fun: