Halfway between Omaha and Lincoln in Greenwood, NE, you will find Baker's Candies- Nebraska's Largest Candy Outlet. Founded in 1987, Baker's is Nebraska's largest chocolate manufacturer.
It is a fun day trip from Omaha or a stop on your way to Lincoln!
Join our growing community and keep updated on Omaha family-friendly events and activities and Sign up for our Free Email Newsletter!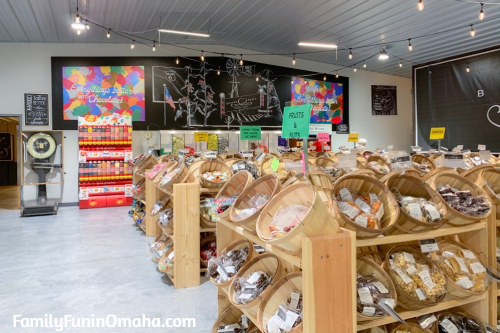 If you have been to Baker's in the past, you'll be in for a treat because they just recently expanded into a brand new building that is bigger and better! My family and I recently went to check it out.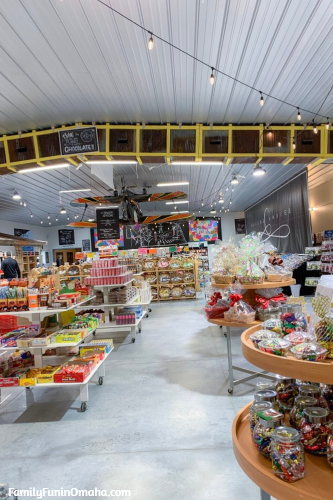 When you first walk in, you are hit with the fantastic smell of chocolate, friendly workers, and an inviting storefront.

Baker's is most well known for their Chocolate Meltaways!
Their meltaways are world-famous, and for many, synonymous with the state of Nebraska. "Meltaways" is the most accurate description because their chocolates are so decadent and smooth, they truly melt in your mouth.
Their chocolates are individually wrapped, and the shiny colored foil wrapping signifies what flavor the chocolate is. They are so delicious, it feels simply impossible to just have one.
The variety of goodies feels endless. There were candies at Baker's that I hadn't seen since my own childhood.
While my kids were all about the candy, it was the wide variety of flavored sodas that sucked my husband and I in. There were obscure flavors like Grass, Butter and Dirt. Then other flavors that seemed too good to be true like Cookie Dough and Birthday Cake.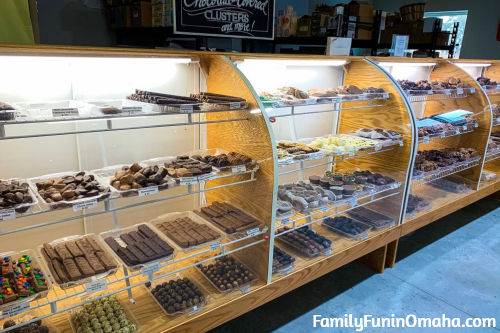 We were all tempted by the goodies in their chocolate case. Options like meltaway bars, truffles, and clusters collectively had our mouths watering.
Their prices are very affordable, making it even more tempting to over-indulge.
It's a true Nebraska gem, not to be missed! Suffice it to say we know the full depths of feeling like "kids in a candy store" after visiting Baker's.
See more Day Trips near Omaha here!
Address: 831 S Baker St; Greenwood, NE 68366

Directions: The exact half way point between Lincoln and Omaha on Hwy 6.

Hours: Visit their FAQ's page for the Outlet Store hours.
Brooke Wheeler is married with 3 children. She is a stay-at-home mom who lives in the Omaha area. She shares about family, fun, food, fashion, and more, on her Instagram page.