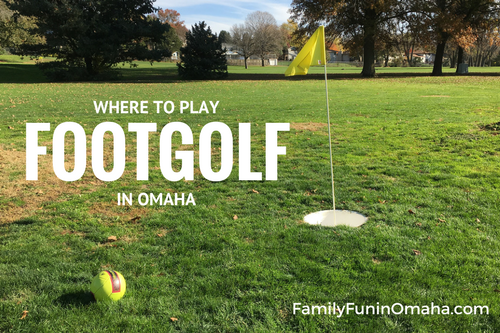 FootGolf is a fun activity for the entire family!
FootGolf combines the popular sports of soccer and golf. To play FootGolf, players use soccer balls on a traditional golf course with 21-inch diameter cups. The rules are similar to the rules of golf.
Up to four players can play together, and either walk the course or use golf carts. Generally, cleats are not allowed on the course.
Bring your own soccer ball, or rentals available (call ahead).
PLEASE NOTE: As things continue to rapidly change during this unusual time, it is always a good idea to verify details before visiting.
Join our growing community and keep updated on Omaha family-friendly events and activities and Sign up for our Free Email Newsletter!
20033 Elkhorn Ridge Dr., Elkhorn, NE. (402) 289-4332
A challenging and hilly course in a picturesque setting.
FootGolf in Lincoln
1800 Wilderness Woods Pl., Lincoln, NE. (402) 434-5118
Footgolf Season: May through September. Visit website for times.
More Family Fun