Find the best decorated Halloween houses in Omaha and surrounding areas here!
Join our growing community and keep updated on Omaha family-friendly events and activities and Sign up for our Free Email Newsletter!
Homeowners: Would you like to add your house to the list? Please submit your information here.
** PLEASE NOTE: Please be courteous as you drive by these houses. Remember that you are in a neighborhood, and so please drive slowly, and do not park in or block other driveways.
Visit our Omaha Halloween Fun Guide for all things Halloween in Omaha including Events, Drive-Thru Experiences, and more in one place!
Find an Omaha Area Halloween Decorated House near you with this Interactive Map:
Find an Omaha Halloween Decorated House near you here!
N. 77th St. & Nebraska Ave., Omaha
This house features a Halloween light display for the community to drive-by.
N. 85th St. & Weber St – Somerset Neighborhood
Haunted cemetery.
N 91st St & Ames Ave
S 110th St & Farnam (Lamp park corner house south entrance)
Lights will be on Fridays and Saturdays.
Sunburst St & N 116th Ave, in Roanoke Estates
Raleigh Drive and Camden Ave – Roanoke
Light and audio show runs dusk to 10 p.m. SMTWT, to 11 p.m. FS.
N 118th St & Raleigh Dr – (Near 118th & Fort)
SISTER'S GRIM – N 127th St & Laurel Ave
Winchester Heights just North of Fort. Look for Wonda the ghost in the window, not to mention their 12 foot skeleton.
N 61st Ave & Jaynes St (Near 61st and Hartman Ave)
53rd & Corby St
N 63rd St. & Parker St
67th St & Blondo
S 21st St & Spring St.
Spiders galore.
S 31st Ave & Jackson
4 inflatables and a graveyard and more!
87th & Q St.
Several inflatables, skeletons and lights.
East of 104th & Weir St. (just North of Q)
S 126th & Anne St
Halloween night only.
122nd Ave. and R St.
Kid-friendly decorations.
HALLOWEEN NIGHT ONLY: 123rd Av & Shirley St, Bel Air
Halloween night 20+ Handcarved pumpkins & yard decor. No contact trick or treating.
Pierce St between S. 137th Ave & Holling Dr (Trendwood Subdivision)
S 137th Ave & Briggs Cir
"The Jack House" – Holling Dr. & Walnut St. in Trendwood (SW of 132nd & Pacific)
The Jack House is lit up from 5-10 p.m. They have added a lot more this year, too! Everything is up every evening unless it's really windy. Some of the inflatables are huge and can only handle so much.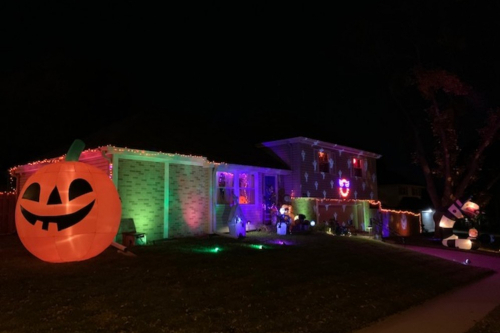 Pepperwood @ 153rd & Burt
Lights are on from dusk until 11 p.m. Some blow ups may not be up during very windy conditions but everything else will still be lit.
S 162nd Ave & Wood Dr.
149th St. & Drexel St.
Full size 11th Doctor, TARDIS, Dalek, Pirate ship, Skeleton Pirate
Borman St & Willow Creek Dr.
164th & Birch Ave – Millard Park South
Spooky but fun for families.
S 176th Ave & Renfro St – (Near 180 and Q, Cinnamon Creek)
They have made almost everything!
176 & J St., Omaha
The Halloween light display will be synced to music and features 50 blow molds and 9 blow-ups. Songs will be "Spooky Scary Skeletons," "Monster Mash," "Purple People Eaters," and "Time Warp." The lights can be enjoyed beginning October 3rd from 6 – 10 p.m. and longer on Halloween night.
S 205th St & A St.
190th & Rosewood St, Whitetail Creek
Decorations on from 6pm- 10pm every night.
181st & Harney, Omaha
N. 183rd St. & Lafayette Ave., Elkhorn
Many decorations up now, with most of the decorations up and running around October 25th.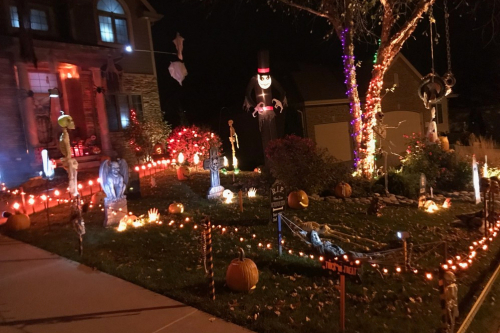 190th & Corby, Elkhorn
Inflatable on from 5 p.m. -11 p.m.
N 173rd Ave Cir & N 174th St
N. 191st St. & George Miller Parkway (192nd & Maple Indian Pointe)
198th & Maple Street, Piney Creek
Ramblewood Dr. between Palomino Rd. and Old Coach Rd., Elkhorn
Ramblewood & Clydesdale Circle
Graveyard Theme
S 19th St. & Meadowlark Lane, Bellevue, NE
Features a fun Halloween display.
S. 25th St. & Florence Dr, Bellevue
S 27th St between Fairview & Calvin St., Bellevue (Sunrise)
We have a huge spooky display.
S 47th St & Margo St.
S. 53rd St. & Drexel St. (just North of 53rd and Harrison St.)
Cottonwood Ave. and Magnolia Ct.
All decorations are handmade.
Remington Rd & N Fillmore St, Papillion
Fenwick St & Eastview Dr., Papillion
Port Royal Dr. & River Rock Dr. Papillion (Summit Ridge Neighborhood – 90th & Schram)
Old style blow mold plastic Halloween displays.
Lakewood Dr. & Port Royal Dr. – Summit Ridge
Walnut Creek Dr & Flint Dr., Papillion
"Osborn Family Halloween Light Display" – Maple St. & S. 10th Ave, Springfield, NE
This house features a Halloween light display set to music for the community to drive-by. Running from sunset – 11 p.m. Sunday – Thursday, and from sunset – 1 a.m. on Fridays and Saturdays. Visitors can tune to 101.1 FM and watch pumpkins sing songs by Michael Jackson, from the movies Trolls and Frozen, and evening some techno/dubstep.
Follow Osborn Family Light Show on Facebook for updates and See video clip here!
8th Avenue and 36th Street, Council Bluffs
Lots of inflatables, disco lights, and a real hearse.
10th Avenue between S. 34th St. & 35th St., Council Bluffs, IA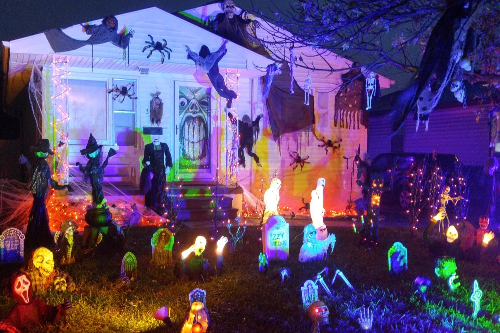 Canceled in 2020
"Nightmare on Redick Street" – 10362 Redick Ave., Cherry Hills, Omaha
CANCELED IN 2020
A favorite Halloween stop in Omaha. The house is lit up with eerie sounds nightly!
Visit their Facebook page for updates and pictures.
More Halloween Fun:
Visit our Omaha Halloween Fun Guide for all things Halloween in Omaha in one place!