If you live in the Omaha Metro, odds are you've heard of Vala's Pumpkin Patch and Apple Orchard.
The attractions are so fun and unique. It really is a great place for some good old-fashioned fall fun, and a great place to make memories with your family. There's an endless amount of things to do and see during your visit and you're sure to work up an appetite.
Thankfully, Vala's has some of the very best food around. Nothing can get you in the spirit of Fall quite like some of the treats you can find at Vala's!
It was challenging to narrow down our list to just 10 items, but we have rounded up a list of 10 of the Best Foods at Vala's Pumpkin Patch!
Join our growing community and keep updated on Omaha family-friendly events and activities and Sign up for our Free Email Newsletter!

Best Foods at Vala's Pumpkin Patch
Here are our favorites of Vala's Best Food (in no particular order):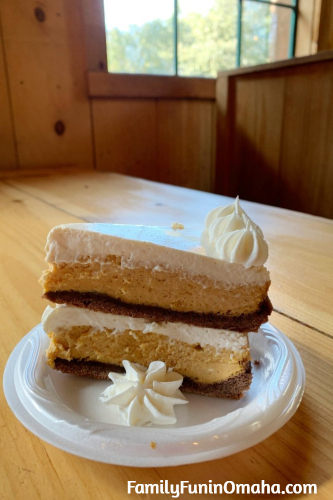 Chocolate Pumpkin Cheesecake– This treat, accurately described as a "hidden gem" at Vala's is absolutely amazing! It has a German chocolate crust and is so rich and decadent. You don't even have to be a huge pumpkin fan to enjoy this. You can find it in the Country Bakery. Another yummy treat to try in the Country Bakery are the Pumpkin Bars.
Apple Cider Donuts– If you want some delicious, made-from scratch, apple cider donuts, head to the Harvest Barn. You can get your apple cider donuts cinnamon sugar coated or glazed. My personal favorite is glazed. If you can snag these first thing in the morning when they are hot and fresh, there really is little else comparable. These are a family favorite and served daily.
Apple Cider Slushy– If you find yourself at the patch on a particularly hot day, there is no better way to cool off than with an Apple Cider Slushy (although the Slushy Station is a close second)! They also offer Apple Cider Slushy Floats, but I personally love them as is (sans the ice cream). You, of course, can also just grab a hot apple cider, on a cold day, which is also amazing- perfect for dunking those Apple Cider Donuts in!
Turkey Legs– You can't talk about food at Vala's and not include their giant smoked turkey legs. My kids more closely resemble animals tearing into these, and love every minute of it. The are located at Time-Out Turkey Legs.
Brown Butter Salted Honey Pie– The fact that Vala's has an entire pie barn, points to the fact that they know their pies!
While many are amazing, for me, the Brown Butter Salted Honey Pie takes the pie cake. This pie could be easily overlooked by some of its "flashier" looking relatives, but this salty-sweet pie is not to be missed! The texture is like custard. It gets an amazing caramel flavor from the brown butter and honey combination.
Other contenders for best pie, are the popular Salted Caramel Apple and Classic Pumpkin.
*Fun fact…did you know you can order their pies for Thanksgiving? Typically around the first week of November you can pre-order a Vala's pie to be picked up the day before Thanksgiving. Follow their Facebook page for more information.
Apple Dumpling– We've gotten an annual family pass to Vala's Pumpkin Patch for the past decade and it wasn't until just recently that I discovered their Apple Dumplings. Dare I say it rivals their pies. The Apple Dumpling consists of an entire peeled apple (grown at Vala's), wrapped in homemade pie crust and drenched in caramel sauce. I have never had anything quite like it- a truly unique treat. It's important to note that these are only available on the weekends. You can find them in the Pie Barn.
Vala's Seven Layer Bars– The treat that brings the most nostalgia for our family has to be the Seven Layer Bar. The pumpkin patch season doesn't close without our family having consumed at least a few of these. Layers of chocolate and butterscotch chips, sweetened condensed milk, graham cracker crumbs, coconut and pecans, all come together to make a rich treat that is out.of.this.world. They are located in the Exit Barn.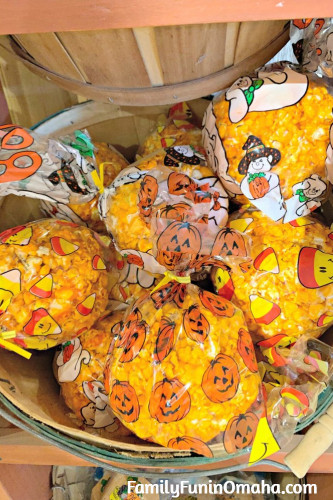 Popcorn Balls– I think it's pretty widely known that Vala's sells great kettlecorn, but have you tried their, homemade, popcorn balls? The recipe is Grandma Lois Vala's and is still being used today. Conveniently located in the Exit Barn, this is a good treat to take home to be enjoyed for later. They are appropriately orange in color as well, adding to the festiveness of the treat.
Succotash– Being more of a savory guy, my husband's favorite thing at the patch is the Succotash, located at the Potato Patch Cookery. Other savory favorites include Chicken Pot Pie and soup in a bread bowl.
Cookie Coop Cookies– These cookies are truly amazing and yet another very unique recipe to Vala's. These mini, warm, chocolate chip cookies are so thin, and absolutely scrumptious! You can purchase a cookie cone or a bucket of cookies.
It was honestly super hard to narrow this list down, so if something didn't make the list, it doesn't mean it isn't worthy. It's just a testament to how great the food is at Vala's Pumpkin Patch!
With that said, I wanted to add some honorable mentions:
Hand-Dipped Caramel Apples

Caramel Apple Funnel Cake Sundae

Freak Shakes (Caramel Apple & S'mores)

Kettle Corn
If having these treats just a few times a year isn't enough for you, did you know they have a Vala's Cookbook full of some of the very recipes listed above? Located in the Exit Barn, you can grab a cookbook for yourself and give some of these amazing recipes a try yourself!
Discover more Helpful Tips for Visiting Vala's Pumpkin Patch here!
Brooke Wheeler is married with 3 children. She is a stay-at-home mom who lives in the Omaha area. She shares about family, fun, food, fashion, and more, on her Instagram page.