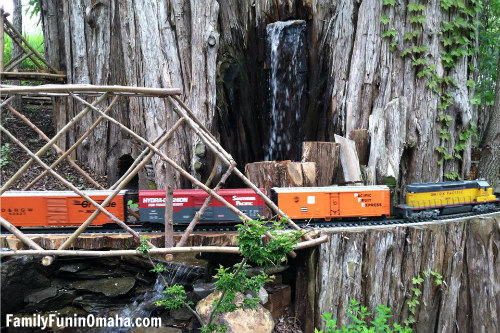 Omaha Railroad Days, an annual celebration of all things train and track, will be held July 13 – 14, 2019!
Join our growing community and keep updated on Omaha family-friendly events and activities and Sign up for our Free Email Newsletter!
Railroad Days 2019
A family pass for Railroad Days is only $15!
One $15 pass admits two adults and your dependent children or two grandparents and up to four grandchildren, for both days. A $5 pass is also available for one additional adult with purchase of a family pass.
This includes transportation between locations and all the special activities that each location has to offer!
Durham Museum
Lauritzen Gardens
Union Pacific Railroad Museum
RailsWest Railroad Museum
Union Pacific's Home Plate
and the Historic General Dodge House.
Railroad Days – July 13 – 14 (9 a.m. – 5 p.m.) – $15/Family
It is a wonderful deal with purchase of an All Aboard Pass for $15/family (limit 2 adults + $5 addl. adult.)
Includes admission and transportation to all locations – Durham Museum, Lauritzen Gardens, Union Pacific Railroad Museum, RailsWest Railroad Museum, Union Pacific's Home Plate, and the Historic General Dodge House.
FIND MORE FUN ALL SUMMER WITH THESE OMAHA SUMMER FUN GUIDES!