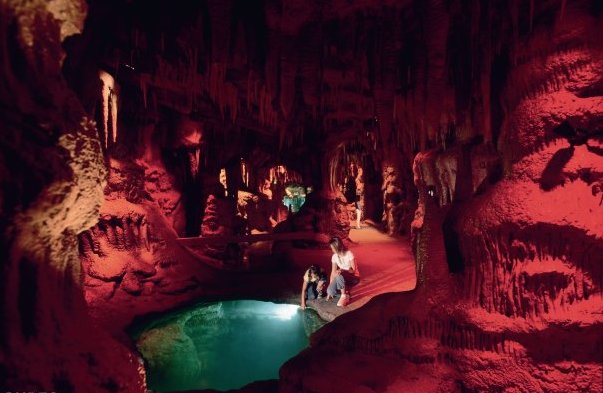 KINGDOMS OF THE NIGHTS IS ONE OF THE BEST ATTRACTIONS TO VISIT IN THE OMAHA ZOO
This amazing large indoor desert will surely take your breath away. It uncovers the darkness of the nocturnal animals. It will give you a realistic experience of what it is like to be in the environment of nocturnal creatures in their natural habitat.
As the guests enter the Desert Dome, they will slowly walk into the darkness and uncover the mystery of these nocturnal creatures. Be prepared, there are thousands of bats flying around to add to that thrilling experience.
The dome is divided into several exhibits. First, you'll see naked mole rats and fossa burrowing through tunnels. Next, you'll see how the bush babies, brush-tailed porcupines, and aardvarks interact. Lastly, as the guests travel deeper into the dome, they will see stalagmites and stalactites dripping into a "seemingly bottomless" water hole which is 16 feet deep.
As the guests/visitors wander through the area, they will go through the " Eucalyptus Forest" dedicated to the animals of Australia.
You will also witness the world's largest indoor swamp that consists of different kinds of amphibians and reptiles. The swamp also includes a realistic beaver dam so the guests/visitors can see the beavers enter and exit through a hole in the floor.
These exhibits present dozens of species around the world that some of us might not have heard of.
Aside from the fascinating experience, the goal of this exhibit is to educate the visitors about the mystery and unveil the beauty of the rare species of nocturnal creatures around the world.
The guides are also available throughout the exhibit to answer questions and provide more information about the animals. Educational kiosks and displays are available which are lighted throughout the journey to give us a brief background of a specific species.
Are you ready to enter and be thrilled by the magical world of the creatures at night with your family and friends? Be astonished with the amazing experience that Omaha Zoo has to offer.
Check out these ticket prices below:
Adult admission is $27.95 ages 12y +
Children admission is $20.95 ages 3y-11y
Children 2 and under may enter the park at no cost and do not need a ticket.
Senior admission is $26.95 for ages 65y+
Get information on ticket prices, hours, and other details by visiting: omahazoo.com