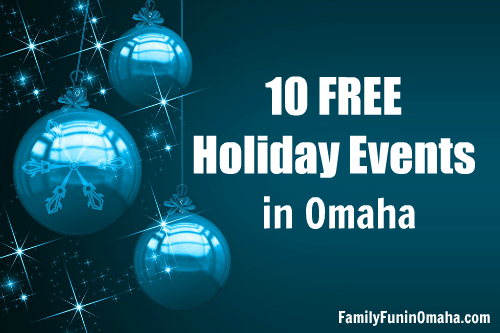 Omaha is FULL of fun Holiday Events – how do you pick which ones to go to?
Be sure to SAVE THE DATE for these 10 FREE Events in Omaha this Holiday Season!
Join our growing community and keep updated on Omaha family-friendly events and activities and Sign up for our Free Email Newsletter!
Looking for more fun? Find 100+ events in the big Holiday Events in Omaha Guide and FREE December Fun!
It is always a good idea to verify with the business before visiting.
10 FREE Holiday Events in Omaha
1. Tree Lighting Ceremonies
From 3 – 5 p.m., get a first look at the Miracle on Farnam window displays, enjoy family-friendly activities, including candid photos with Santa and Mrs. Claus, a scavenger hunt and much more! At dusk, see the trees of Turner Park lit in white lights.
At 6 p.m., there will be a special Showing of the family holiday movie The Polar Express in Turner Park.
Location: 32nd & Farnam, Omaha.
3. Gingerbread House Display – Nov. 17 – Dec. 31, 2018 (10 a.m. – 8 p.m.), FREE
Verify before visiting for early closings/closing for Holidays. The center closes at 3 p.m. on Thanksgiving Eve, Christmas Eve, and New Year's Eve. The center will be closed on Thanksgiving Day and Christmas Day.
Be sure to pick up a scavenger hunt and try to find all of the items!
2 Locations: Mormon Trail Center, 3215 State St., Omaha, and Kanesville Tabernacle, 222 E. Broadway, Council Bluffs, IA.
Enjoy a wonderful collection of 20 window displays created by local nonprofits, students and individual artists, and vote for your favorite.
Location: Midtown Crossing, 35th & Farnam, Omaha.
5. Lights of Aksarben – Fridays, Nov. 23 & 30 & Dec. 7 & 14, 2018 (6 – 8 p.m.), FREE
Nov. 23 – Tree Lighting Ceremony
Nov. 30 – Backwoods Art Activity
Dec. 7 – Cocoa with a Cop
Dec. 14 – Santa and Mrs. Claus
Location: Aksarben Village, 67th & Center St, Omaha.
Enjoy a variety of activities including carriage rides, bonfire, visits with Santa, popcorn, hot chocolate, photos with live reindeer and more.
Enjoy many special Holiday Events at Omaha Public Libraries. Some events require registration as space is limited. Visit omahalibrary.org or call the hosting location for more information and to verify details.
There will be a life size snow globe that guests can walk into to take a picture! Mutual 1st will donate $1 to Child Saving Institute for each picture posted to Facebook or Instagram using #GlobeOfGiving!
Kick-off Event: Join in from 11:00 a.m. – 1:00 p.m. on Saturday, December 1st for the kick-off event, complete with special giveaways for the first 300 people and random prize drawings!
Location: Westroads Mall, next to Flagship Commons.
Ride with Santa on a special sleigh around the park. Enjoy hot cocoa, write a letter to Santa, explore the trails and other family fun activities. Please bring a new pair of mittens or a non-perishable food item to donate. Must RSVP online at parks.cityofomaha.org under "Activity Registration" button.
Location: 3033 Hummel Park Rd., Omaha.
The event features fun and informative art demonstrations, with residents of the Hot Shops opening their studios to the public. Local acoustic musicians will perform throughout the center.
Location: Hot Shops Art Center is located at 1301 Nicholas St., just one block north of TD Ameritrade Park's home plate.
WEATHER UPDATE: Due to inclement weather, there will be no trolley service between venues and no activities at the YMCA.
Enjoy family activities and experience many of Omaha's leading downtown attractions for FREE including Omaha Children's Museum, The Durham Museum, Downtown YMCA, Omaha Police Mounted Patrol Barn, W. Dale Clark Library, and Joslyn Art Museum. A free trolley service will connect the participating venues.