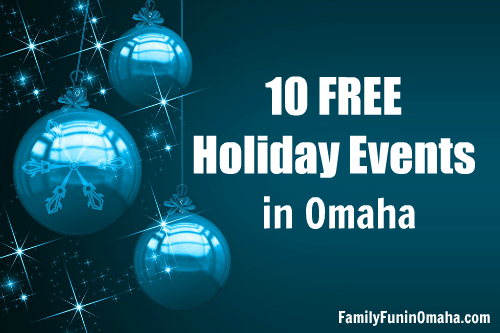 Omaha is FULL of fun Holiday Events – how do you pick which ones to go to?
Be sure to SAVE THE DATE for these 10 FREE Events in Omaha this Holiday Season!
Join our growing community and keep updated on Omaha family-friendly events and activities and Sign up for our Free Email Newsletter!
Looking for more fun? Find 100+ events in the BIG 2019 HOLIDAY EVENTS GUIDE in Omaha Guide and FREE November Fun!
It is always a good idea to verify with the business before visiting.
10 FREE Holiday Events in Omaha
Gingerbread displays and holiday performances.
Location: Ramada Inn, 3321 S. 72nd St., Omaha, NE.
2. Tree Lighting Ceremonies
Santa's Wonderland offers Contactless Claus visits, free Photo with Santa, and free take-home holiday craft activity kits.
Make your reservation in advance beginning Nov. 2nd.
Location: Cabela's, 12703 Westport Pkwy., La Vista, NE and Bass Pro Shops, 2901 Bass Pro Dr., Council Bluffs, IA.
We count our blessings the day before Thanksgiving! Tie fleece blankets for The Humane Society, put together a meal for Youth Emergency Services, and decorate placemats for The Children's Hospital.
Location: The Wonder Nook Omaha, 10806 Prairie Hills Dr., Omaha, NE.
TBA – Tree Lighting Ceremony
TBA – Backwoods Art Activity
TBA – Cocoa with a Cop
TBA – Santa & Mrs. Claus
Location: Stinson Park, 2232 S. 64th St., Omaha, NE.
Holiday shoppers can enjoy complimentary horse and carriage rides on Saturdays throughout the center, weather permitting.
Location: Village Pointe Shopping Center, 17305 Davenport St., Omaha, NE.
Enjoy family activities and experience many of Omaha's leading downtown attractions for FREE including Omaha Children's Museum, The Durham Museum, Downtown YMCA, Omaha Police Mounted Patrol Barn, W. Dale Clark Library, and Joslyn Art Museum. A free trolley service will connect the participating venues.
Enjoy many special Holiday Events at Omaha Public Libraries. Some events require registration as space is limited.
Howl-iday Fun– read holiday tails to adoptable animals, decorate dog treats, and make toys for shelter pets in your Howl-iday pajamas.
Location: Nebraska Humane Society's Center for Humane Education Building at 8929 Fort St., Omaha, NE. (behind Walgreens)
Santa will be visiting the Library and community center, so make sure you bring your camera. Enjoy storytime, crafts, inflatables, and lots of seasonal activities.
Location: Saddlebrook Community Center & Library, 14850 Laurel Ave., Omaha, NE.
Families are invited to create more memories with carriage rides, photos with Santa, shopping at the Holiday Boutique, outdoor concerts, and more!
The event features fun and informative art demonstrations, with residents of the Hot Shops opening their studios to the public. Local acoustic musicians will perform throughout the center.
Location: Hot Shops Art Center is located at 1301 Nicholas St., just one block north of TD Ameritrade Park's home plate.
Santa is making a special stop to visit all the little girls and boys. Plus, enjoy an exciting storytime, crafts, games, and the bounce house!
Location: A.V. Sorensen Community Center, 4808 Cass St., Omaha, NE.
Join in for storytime at Florence Branch library, then head to the gym for crafts, activities and refreshments! Meet Buddy the Elf and Mrs. Claus.
Location: 2920 Bondesson St., Omaha NE.
An all-ages event with a nature storytime, Nature Bingo at 11am, crafts, hikes, outdoor games, and hot cocoa.
Location: Hummel Park Nature Center, 3033 Hummel Park Rd., Omaha, NE.