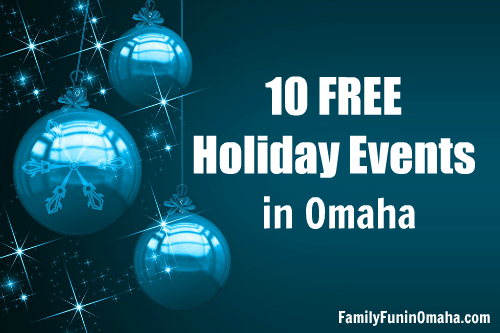 Omaha is FULL of fun Holiday Events – how do you pick which ones to go to?
Be sure to SAVE THE DATE for these 10 FREE Events in Omaha this Holiday Season!
Join our growing community and keep updated on Omaha family-friendly events and activities and Sign up for our Free Email Newsletter!
Looking for more fun? Find 40+ events in the BIG 2020 HOLIDAY EVENTS GUIDE in Omaha Guide!
It is always a good idea to verify with the business before visiting.
10+ FREE Holiday Events in Omaha
Find the best Christmas Lights in Omaha full of beautifully decorated houses with bright lights, inflatables, decorations, and some with thousands of lights choreographed to music!
Santa's Wonderland offers Contactless Claus visits, free Photo with Santa, and free take-home holiday craft activity kits.
Reservations are required for 2020. Make your reservation in advance beginning Nov. 2nd.
Location: Cabela's, 12703 Westport Pkwy., La Vista, NE.
Old Market Display – White lights, garland, and festive decor will illuminate the brick streets of the Old Market and surrounding areas. The display will run from 10th St. to 13th St., and from Harney St. to Jackson St.
North Omaha Display – The North Omaha lighting display will be showcased along a 6-block area around 24th St. and Lake St.
South Omaha Display – The South Omaha lighting display will be showcased on 24th St. between L St. and Q St.
Stroll in the glow of a cherished holiday tradition – tens of thousands of white LED lights strung throughout Turner Park and along Farnam St. Plus, visit the beautifully-decorated tree in Farnam Court.
Location: Turner Park (31st Ave. and Farnam St.), Omaha, NE.
Enjoy FREE virtual events this season!
Nov. 26 (7 – 7:20 p.m.) Virtual Tree Lighting Ceremony – This 20-minute program features musical performances, a greeting from Santa and the countdown to the lighting of the region's largest indoor Christmas Tree – all from the comfort of your couch! FREE.
Dec. 4 (4 – 4:30 p.m.) Virtual Holiday Cultural Conversations – A virtual spin on this popular event featuring an introduction to Christmas at Union Station traditions and the museum's 40-foot, fully decorated tree. Then, take a tour of the Holiday Cultural Tree display with help from local cultural organizations who are able to shine a light on their own holiday traditions. FREE.
Dasher and Dancer will arrive on Saturday, November 21st and are available to visit anytime during store hours until they leave again on Saturday, December 19th.
Location: Mulhalls, 3615 N 120th St, Omaha.
Visit Santa, meet his live reindeer, and enjoy a carriage ride around the village. Shop at your favorite stores while kids enjoy sweets and treats with a Holiday Scavenger Hunt.
Location: 2800 S. 110th Ct., Omaha, NE.
Enjoy a drive-thru experience with all the holiday cheer you can handle!
Location: Downtown Papillion, NE.
Help spread holiday cheer by entering the 1st Lights on Dundee Gingerbread Contest! Entries will be on display in Dundee business windows during the Lights on Dundee Event (December 3, 2020, from 4-8 p.m.) and all ages are welcome to participate.
Location: 4914 Underwood Ave., Ste. A, Omaha, NE.
For 2020, Hot Shops' Open House will take place on Facebook.
Watch demonstrations, get to know the center's current artists, learn more about their tools and processes, and view their latest works!
Location: Online.
Though different from previous years, hands-on activities will still be part of the event. Craft kits will be handed out to vehicles to complete at home as a family and there will be festive holiday entertainment, Santa, and, police riding their horses! The first 500 vehicles will receive one complimentary Paddington Bear book, courtesy of the Omaha Public Library.
Location: Omaha Police Mounted Patrol Barn, 615 Leavenworth St., Omaha, NE.
12. Gingerbread Holiday Scavenger Hunt – Thurs.-Sat., Dec. 3 – 19, (30-minute time slots between 10 a.m. – 2 p.m.) FREE [REGISTER]
Private groups of 8 or less will have 30 minutes to do a scavenger hunt among the gingerbread and art displays. A craft will also be provided. Recommended for ages 6-12 but other ages are welcome. Masks are required.
Reserve your FREE ticket by clicking the "Tickets Available" or "Find Tickets" button. One ticket per group.
Location: Fine Arts on Fifth, 104 E. 5th St., Malvern, IA.
Join CRCC for a virtual read-aloud of The Gingerbread Man on Dec. 15th, at 7 p.m., to find out more about the community-wide gingerbread manhunt that will run Dec. 16-20.
Register here to gain access to the virtual read-aloud. Then, register for the gingerbread man hunt visit here to gain access to the map of hidden gingerbread men.
The gingerbread men will be hiding all over, waiting for you in this FREE and fun contactless family event!
Enjoy the spectacular firework show in the warmth and safety of your vehicle or home!
Arrive early and park for FREE to view the up-close show in the recommended viewing areas listed here.
The fireworks will be launched from Parking Lot D of the CHI Health Center.