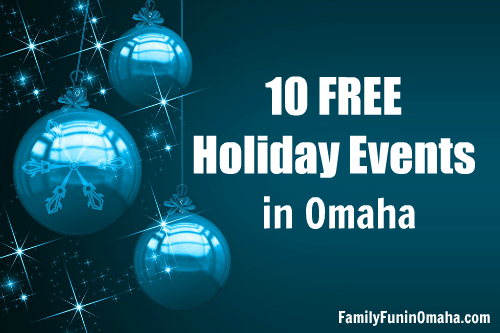 Omaha is FULL of fun Holiday Events – how do you pick which ones to go to?
Be sure to SAVE THE DATE for these 10 FREE Events in Omaha this Holiday Season!
Join our growing community and keep updated on Omaha family-friendly events and activities and Sign up for our Free Email Newsletter!
2022 Holiday Fun Guides
PLEASE NOTE: Many events require pre-registration, have limited capacity, or offer timed slots. As things continue to change during this time, it is highly recommended to verify details, closures, cancelations, hours of operation, and any requirements or procedures for guests before visiting. Thank You!
10+ FREE Holiday Events in Omaha
Find the best Christmas Lights in Omaha full of beautifully decorated houses with bright lights, inflatables, decorations, and some with thousands of lights choreographed to music!
Santa's Wonderland offers Contactless Claus visits, free Photo with Santa, and free take-home holiday craft activity kits.
Advance reservations are required in all locations for Free Santa photo and can go quickly. Reserving is easy and free.
Location: Cabela's, 12703 Westport Pkwy., La Vista, NE and Bass Pro Shops, 2901 Bass Pro Dr., Council Bluffs, IA.
3. Lights of Aksarben – Fridays, Nov. 25, Dec. 2, 9, 16 (6 – 8 p.m.), FREE
Enjoy a horse and carriage ride and more. Each Friday, something new is planned for the littles.
Location: Stinson Park, 2232 S. 64th St., Omaha, NE.
Pick up and drop off in front of the fireplace by Marcus Village Pointe Cinema.
Location: Village Pointe Shopping Center, 17305 Davenport St., Omaha.
Hollywood Candy will offer free holiday movies in their theater starting Nov. 27th and Santa appearing on select weekends starting Dec. 4th. See here for schedule.
Location: 1209 Jackson St.
6. Holiday Trains – Dec. 3-4, Dec. 10-11, Dec. 17-18 (12 – 6 p.m.), [Reservations Required]
The Union Pacific Railroad Museum will once again host members of the N-Trak model train club and their holiday model train display this December.
Visitors will need to reserve their time to visit online at www.uprrmuseum.org. Appointments are plentiful, but schedule ahead to avoid missing out. Walk-ins will be accommodated if possible.
Location: Union Pacific Railroad Museum, 200 Pearl Street, Council Bluffs, Iowa.
This drive-through experience will include picking up craft kits to do as a family, holiday characters and Santa, Police Officers on their horses, and holiday entertainment – all in the warmth and safety of your vehicle. The first 500 vehicles will receive a complimentary book, courtesy of Omaha Public Library.
Volunteers will be on hand to collect food donations for the Shine the Light on Hunger campaign, so bring nonperishable food with you if you wish to contribute.
Location: Omaha Police Mounted Patrol Barn, 615 Leavenworth St., Omaha.
8. Meet Santa & His Elves at Bel Air Plaza – TBA 2022
Santa and his elves return to Bel Air Plaza! Bring your camera. Santa will be present for the children to talk to, and there will be special visitors and a station for kids to make their holiday wish lists and drop them off in Santa's mailbox.
Location: Bel Air Plaza Parking Lot, 12100 W. Center Rd., Omaha, NE.
Visit Santa and his live reindeer. Share your wish list with Santa at Ollie & Hobbes, then visit Santa's reindeer right outside in the parking lot.
Location: Ollie & Hobbes Craft Kitchen, 310 E. Gold Coast Rd., Papillion, NE.
Enjoy the spectacular firework show in the warmth and safety of your vehicle or home!
Arrive early and park for FREE to view the up-close show in the recommended viewing areas listed here.
The fireworks will be launched from Parking Lot D of the CHI Health Center.