Calling all expert gnome spotters!
Lauritzen Gardens has been overrun with roaming gnomes and you can join in a Scavenger Hunt to help find them all! You'll spot these mischievous little characters (25 in all!) nestled between the trees of the arboretum with only their pointy hats and long beards giving away their sneaky hiding places!
Join our growing community and keep updated on Omaha family-friendly events and activities and Sign up for our Free Email Newsletter!
Special gnome signage will lead you through the grounds to make sure you stay hot on their tracks, but be sure to stay on the path as to not disturb the gardens.
You can also follow along a kid-friendly StoryWalk of the book Go BIG or Go Gnome as complete your hunt. It's a perfect way to keep kids of all ages excited and engaged!
Once your scavenger hunt is finished, hang out in the "Gnome Zone" for fun games like ring toss, bags, connect four, kerplunk and checkers. Make sure to take a moment to gnome yourself and snap a picture at the photo station!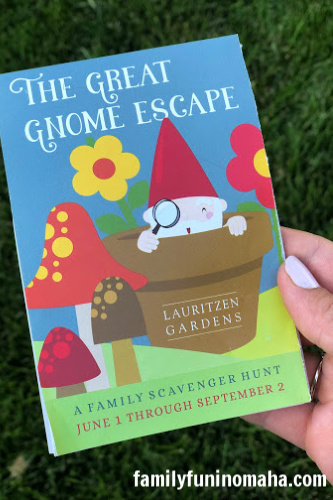 Tips: It took my children and I just over an hour to complete the scavenger hunt. I suggest wearing tennis shoes as portions of the trail are wood chips. The arboretum is located directly across from the model train exhibit, so it's a great opportunity to make a quick pit stop at a kid favorite!
What: The Great Gnome Escape

Where: Lauritzen Gardens, 100 Bancroft Street, Omaha. Gnome figurines are hidden throughout the wooded arboretum

When: June 1 – September 2, 2019.

Cost: Adults: $10 + tax; Children ages six to 12: $5 + tax; Free for Lauritzen Gardens Members and Children younger than six years of age.

Find Out More: http://www.lauritzengardens.org/; (402)346-4002

Members of the Omaha Public Library can also check out a Family Pass to visit, and for children who complete the Summer Reading Program, they receive a pass to visit also!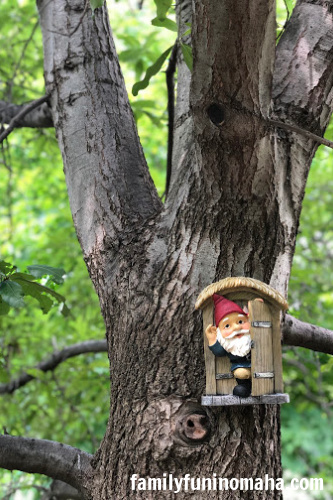 Hanging with our Gnomies
On June 20 and August 1, the gardens will be open at night from 6-9pm for guests 21 and older.
World Record Attempt
On August 9 guests are invited to help break the Guinness World Record for the largest gathering of people dressed as garden gnomes. Start perfecting your best garden gnome "look" now!
Find More Summer Fun: