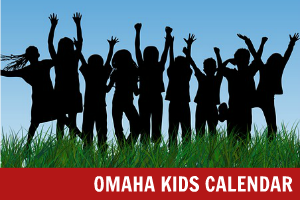 It is always a good idea to verify before visiting, as event details may change. Find this Weekend's Top Picks, and keep updated on the latest Omaha fun and Sign up for our Free Email Newsletter.
KickstART Saturday at Joslyn Art Museum
Presented six times per year, these FREE events will entertain and engage families with hands-on activities, performances, and demonstrations that complement Joslyn's exhibitions. Depending on the theme, you could hear a storyteller, see dancers in motion, listen to live music – or try those things yourself! And there will always be a chance to explore the galleries and create art of your own. All ages are welcome.
Saturdays, 10 am-noon:
April 8 – Wild Spaces, Open Seasons: Hunting and Fishing in American Art
This month we celebrate the art of Wild Spaces, Open Seasons: Hunting and Fishing in American Art. Don't forget to "Ask a Docent" about the art you see in the exhibition. Join art teacher Lindsey Tomaso to create a Wild Landscape using several art techniques, including collage. Then take a journey with Wildlife Encounters as they explore our world's amazing habitats and animals that live in them. Wildlife Encounters' award-winning program will introduce you to some of the world's most unique animal ambassadors. The Nebraska Game and Parks Commission will also be on hand with information about its mission to conserve the state's fish, wildlife, and parklands and opportunities for outdoor recreation in Nebraska.
From 10 a.m. to noon on April 8, general public adult tickets to Wild Spaces, Open Seasons are just $5. Youth tickets are always free!
June 10 – Glorious Flights: Illustration Art of Alice and Martin Provensen
Today's KickstART Saturday will feature the art of illustrators Alice and Martin Provensen. Martin was working for Disney animation and Alice was working for Walter Lantz Studio, creator of "Woody Woodpecker" when they met. Together they have illustrated many books including the Little Golden Book The Color Kittens. Our art making activity will celebrate that book. Art teacher Lindsey Tomaso will help families mix some colors in a paper marbling masterpiece. Who loves to dance? Ballet Nebraska will present a short dance demonstration. Then children will be invited on stage to join the ballerinas to help us celebrate the illustrations of the book Tales from the Ballet. Don't forget to "Ask a Docent" about the art you see in the exhibition.
KickstART Saturday is sponsored by Joslyn Art Museum Association.
Disclaimer: Calendar listing: Please always confirm event details and times with the actual host of the event. This calendar is produced far in advance from a variety or sources; event details may change and listings are subject to possible errors.
Products and services listed on this site should not imply endorsement by Family Fun in Omaha. All information provided on this website is for informational purposes only. Family Fun in Omaha strives for accuracy, completeness, suitability, and validity of the information on this site, but they will not be liable for any errors, omissions, or delays in this information or any losses, injuries, or damages arising from its display or use. All information is provided on an as-is basis.