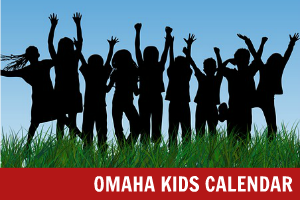 It is always a good idea to verify before visiting, as event details may change. Find this Weekend's Top Picks, and keep updated on the latest Omaha fun and Sign up for our Free Email Newsletter.
Family Education Program at Heron Haven
Second Saturday Programs
All programs are FREE and open to all. Trails are handicapped accessible but conditions can be uneven so hiking is at your responsibility. All Programs are 10-11:30 unless otherwise noted.
November Second Saturday falls on Veteran's Day this year. We would like to Honor our Veterans by a silent walk FOR ANYONE followed by coffee and hot chocolate and cookies from 10-10:30. Free mini-flags. Many current studies discuss how being in nature can improve our mental/emotional sense of well being as well as the physical exercise. At 10:30 – November Rocks! Explore Geology and the fascinating world of fossils and rocks. First 18 kids can dig for a trilobite to take home. Bring your copy of The Nature Connection for featured information.
December Enjoy the Holidays! Consider Giving a Gift to Wildlife by doing a family activity such as rolling pine cones covered in peanut butter or Crisco in birdseed. Hang with yarn on a place easy seen by your family. Watch the squirrels and birds enjoy!
January Our lives are filled with Stories. After a hike in the woods let's share some nature stories with hot chocolate. If your children have a favorite stuffed animal bring it along to help make up a nature story with other provided puppets and props.All families participating in a mini-workshop from10-10:15 will receive 1 free copy of The Nature Connection by Clare Walker Leslie. If you have already received this book please bring it to use for the hike and activities.
February There are many amazing animals such as the fox that live at Heron Haven that we never see. Join us for a special slide show presentation of the animals of Heron Haven by photographer Nanette Williams. Be prepared to be in awe! Join us then for activities about tracks and scat and how animals survive the winter in Nebraska. Bring your Nature Connection book for featured activities. Free hot chocolate!
Disclaimer: Calendar listing: Please always confirm event details and times with the actual host of the event. This calendar is produced far in advance from a variety or sources; event details may change and listings are subject to possible errors.
Products and services listed on this site should not imply endorsement by Family Fun in Omaha. All information provided on this website is for informational purposes only. Family Fun in Omaha strives for accuracy, completeness, suitability, and validity of the information on this site, but they will not be liable for any errors, omissions, or delays in this information or any losses, injuries, or damages arising from its display or use. All information is provided on an as-is basis.