Enjoy many family-friendly events this weekend! It is always a good idea to verify before visiting, as event details may change. [Not the current week? See more Upcoming Events in Omaha here!]
 Keep updated on the latest Omaha fun and Sign up for our Free Email Newsletter!
Popular this Week:
The 2017 Summer Camp Guide is here! Choose from a variety of camps divided into The Arts, Academic Camps, Outdoor Fun, Specialty Camps, and Sports Camps!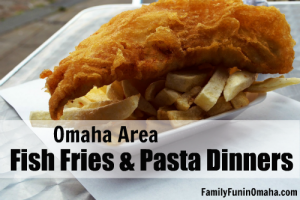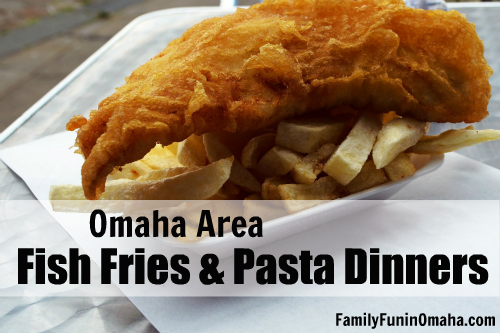 It's Fish Fry Season! Find your favorite or try out a new one with our interactive map!
Top Picks this Weekend:
Find these and many more events and activities in the Omaha Kids Calendar!
Fridays, Saturdays, and Sundays at 10 a.m. Participating Omaha Locations include: Majestic Cinema (144th & Maple), Twin Creek in Bellevue, and Village Pointe. Please arrive early as seating is limited to theater capacity.

April 7 – 9: Secret Life of Pets

You can also get FREE Admission by printing off tickets from American Family Insurance!
Truckin' Through Nebraska: A Mobile Children's Museum – April 7 – 9, FREE. Fri. April 7 (5 – 8 p.m.); Sat. April 8, (9 a.m. – 5 p.m.); and Sun. April 9 (11 a.m. – 5 p.m.)
Explore the hands-on children's museum located outside the Omaha Children's Museum before it begins its 26-week tour through Nebraska!
The mobile museum is free to visit; admission into Omaha Children's Museum is additional.
Oregon Trail! Challenges inspired by the Oregon Trail game will be set up throughout the museum, including a chance to ford the river in a canoe and hunt for bear and elk, while supplies last.
Included with admission or membership.
Visitors are invited to dress in their favorite gear from railroad decades past, 1850-2000. The Steampunk Society of Nebraska will be our special partner for the event.
The Durham will be open free of charge Saturday, April 8 and Sunday, April 9 to celebrate the building's designation as a National Historic Landmark. The museum is open 10 a.m. – 5 p.m. on Saturday and 1-5 p.m. on Sunday.
Join art teacher Lindsey Tomaso to create a Wild Landscape using several art techniques, including collage. Then take a journey with Wildlife Encounters as they explore our world's amazing habitats and animals that live in them.
From 10 a.m. to Noon on April 8, general public adult tickets to Wild Spaces, Open Seasons are just $5. Youth tickets are always free!
Celebrate Earth Day a little early with hands-on Earth Friendly activities like make and take a flower pot and bird seed bowling. Location: 11809 Old Maple Rd.
Come in-store for a FREE slime-filled Easter Egg and customize it at the Easter Slime Bar with fun mix-ins. While supplies last.
Each workshop will be taught by professional artists and teachers and will feature a story time and an accompanying arts activity. Partnered with Arts For All. For children ages 8 – 12.
450,000+ LEGO® bricks, 13 incredible displays, and "Play and Let it Stay" station. Included with regular admission.
$10 for family of 4 ($3 for additional person). Price includes: admission, skate rentals and orange drink or lemonade.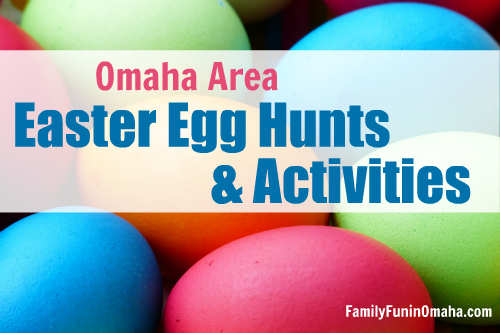 Plus Activities, Photos with the Easter Bunny, Pet Photos, and more!
It is always a good idea to verify with the particular location before visiting as times may change, especially in inclement weather. It is also recommended to arrive early as many of the Easter Egg Hunts run promptly on time and are over very quickly.
This weekend:
Enjoy story time, egg hunt, crafts at the Library, bounce house fun, and toys in the gym. Bring your camera for pics with the Easter Bunny.
Location: 14850 Laurel Ave.
Location: Brookside Church, 11607 M Circle, Omaha, NE 68137
11 a.m. – Helicopter Egg Drop & Egg Hunt. Find a special egg, get a helicopter ride. Dunkin Donuts & Chick-Fil-A for purchase (cash only). For ages 3 years – 5th grade. Bags for easter egg hunt will be provided.
The Spring Fling begins at 10 a.m. with an outdoor egg hunt for toddlers to ten years of age. The museum has hands-on activities indoors until 12 p.m. The indoor activities include a picture with the Easter Bunny, face painting, coloring contest, kite building, and activities by KinderCare Learning Centers.
Included with regular admission or membership.
Hummel Hunt
Council Bluffs Parks & Recreation Dept. Easter Egg Hunt
Easter Egg Hunt presented by Black Police Officers Association of Omaha and Kappa Alpha Psi Fraternity
Photos with the Easter Bunny & Crafts at Bass Pro Shop
Papillion Egg Hunt at Halleck Park Shelter
Easter Egg Hunt in the Pool at Mockingbird Hills Pool
and more!
More Fun
Find these and many more events in the Omaha Kids Calendar!
We do our best to share current information in Family Fun in Omaha, but event details may change. It is always a good idea to verify the information before visiting.
Have a wonderful fun-filled weekend!