Enjoy family-friendly events coming up in Omaha, including these 10+ FREE Events in January!
Keep updated on the latest Omaha fun and Sign up for our Free Email Newsletter!
Find these and more in the Omaha Kids Calendar (you can also view only Free Events)!
Come explore the museum while wearing your pajamas. Pottawattamie County Conservation and the Council Bluffs Library are bringing activities to enjoy. There will also be a pajama parade at 6.
Hands-on workshop where parents and child can build a Crate Toolbox together.
3. Hummel Hike Club – Jan. 7 (9:30 a.m. – 11:00 a.m.)
Learn the trails and enjoy fun monthly themes. Register online or at any City of Omaha Community Center.
Come learn baby sign language together every Thursday morning by a trained instructor. Each week, you will build on the previous lesson. This class is recommended to adults who've already taken the museum's Baby and Me Sign Language or another introductory class.
Free to all Members and Non-Members. Museum admission is not included. Registration required.
Every tiny chef will enjoy this cooking Class at Hy-Vee. Due to space and supplies, an RSVP is required to attend this Tots Event. (Please email or call 402-537-0046 to RSVP.)
Enjoy wild winter fun with polar bear and penguin activities and crafts. Ideal for children five and under.
Who is making little footprints across the snowy trail at Heron Haven and in your backyard? Come learn more about animal tracks and receive a free Nebraska Wild Animal Tracks booklet from the NE Games and Parks Commission. Enjoy hot cocoa in the Nature Center.
Hands on science stations, hourly stories, crafts.
Fun educational, hands-on classes for pre-school age children and parents.
FREE 3x a year with promo code "ParentSavvy". A ticket to enter Hands-on-Habitat is required for all individuals, no matter age (this includes parents, children, and infants). Please note that space is limited and sessions do sell-out so please register early! Register here!
Make an igloo using glue and sugar cubes. Ideal for children over four years old. Parental participation required.
Amazing floral displays in the beautiful Cathedral. The 32nd Annual Cathedral Flower Festival celebrates our shared stories during the 150th Anniversary of Nebraska Statehood.
Admission is free of charge. Free-will donations are gladly accepted.
$5 or less
Bring the whole family to the Owen Marina to participate in outdoor education activities, fishing, crafts, and roasting hot dogs and s'mores over an open bonfire (Hotdog, chips and drink for sale, $2.00 per meal. S'mores Kits for sale, $2,00 each.) A Park Entry Permit is required.
Each Tuesday in January and February, the temperature at 6 a.m. is the price of an Original Runza® Sandwich with purchase of a Medium Fry and Medium Drink! Additions and substitutions are extra.
Find these and more in the Omaha Kids Calendar (you can also view only Free Events)!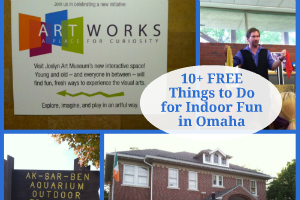 Find more Helpful Resources: